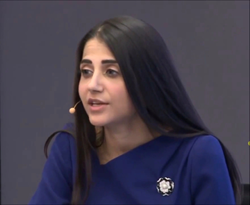 "With talent, technology, and domain expertise, NIN.VC is exceptionally positioned to exploit the growing manufacturing market in India. We look forward to riding this success wave with India as it becomes one of the top manufacturing destinations in the world," said Ms. Desai
CHICAGO (PRWEB) November 06, 2017
NIN.VC has always been on the forefront when it comes to being disruptive and investing in disruptive technologies. However, disruption does not bar geography; thus in an effort to increase our global presence and expand their reach in the manufacturing sector, NIN.VC has opened an India office.
India is one of the most competitive nations in the world, equipped with both skilled and unskilled workforce in areas of science, engineering, technology, and research; and with the current infrastructure, policies, and regulatory changes, poised to be the next manufacturing destination of the world. Currently, manufacturing comprises 16.51% of India's GDP, and since 2012 India's manufacturing sector's gross value increased at a CAGR of 7.32% to be $311.5B in 2017, putting it on track to achieve 25% GDP by 2025.
Manufacturing has been around for a large part of the century, however we stand on the brink of an industrial revolution that will fundamentally alter the way we live, work, and relate to one another. In its scale, scope, and complexity, this transformation will be unlike anything humankind has experienced before. The first industrial revolution used water and steam power to mechanize production. The second used electric power to create mass production. The third used electronics and information technology to automate production. Now a fourth industrial revolution is building on the third, the digital revolution that has been occurring since the middle of the last century. It is characterized by a fusion of technologies that is blurring the lines between the 3D, 4D, digital, other smart and biological spheres. Additive manufacturing fueled by IoT, AR / VR, and Robotics will transform the manufacturing landscape forever.
"With talent, technology, and domain expertise, NIN.VC is exceptionally positioned to exploit the growing manufacturing market in India. We look forward to riding this success wave with India as it becomes one of the top manufacturing destinations in the world," said Ms. Desai.
About NIN Ventures
NIN Ventures (or NIN.VC) is a unique and first of its kind crowdfunded technology venture capital fund for accredited investors who can invest in the NIN Ventures Technology (QP) Fund with a minimum amount of $100,000 using multiple investment options like self-directed IRAs, Defined benefit plan, digital currencies (E.g. Bitcoin, Litecoin, Dogecoin), or a regular checking / savings account. NIN Ventures invests in early / growth stage 3D printing, the 4th industrial revolution, cloud computing, virtual reality, financial services, education software, and other disruptive technology companies.
For media inquiries please contact: press(at)nin(dot)vc