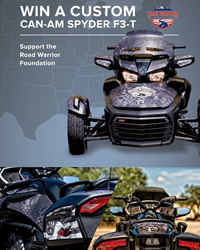 Fundraising efforts like this are what make it possible for us to provide the kind of adventures we do for deserving veterans.
ATLANTA (PRWEB) November 03, 2017
Following their most successful cross country ride to date, the Road Warrior Foundation is excited to announce that title sponsor Can Am BRP has donated a brand new 2017 F3-T Can Am Spyder to be raffled off on November 11 to benefit future adventure therapy excursions. Raffle tickets can be purchased through the following link: https://rw.raffleready.com/custom-f3-limited
The Road Warrior Foundation is 100% nonprofit, 100% volunteer with no paid employees, and every penny donated goes directly to Operations to help our veteran community.
Highlights from the 2017 Austin to Charleston Ride:
The Road Warrior Foundation is a volunteer-only foundation that improves the lives of veterans through "adventure therapy." For the non-profit, that means hitting the open road on Can-Am Spyders. The Annual Road Warrior Ride is the foundation's marquee event each year.
This year, ten veterans rode Can-Am Spyders from Austin, TX, to Charleston, SC. All of the veterans are young -- in their 20s and 30s -- and have experienced far too much already in their lives. Most of the veterans on this year's ride were inexperienced riders, getting their license only several weeks before. As the group embarked on their journey, the size of the group ranged anywhere from 25-100+ bikes, mostly made up of Can-Am Spyder owners, but other riders from the likes of the American Legion Riders and Patriot Guard.
Here are videos you could link to that help tell the story.
Training day: https://youtu.be/C24WrvUxE6U
Day 1: https://youtu.be/PMRCzrELnSc
Day 2: https://youtu.be/zqMDM_a2jIo
Day 3: https://youtu.be/dqsrVRtJIw8
Day 4: https://youtu.be/mZRLCakX_m8
"Fundraising efforts like this one are what make it possible for us to provide the kind of adventures we do for deserving veterans. As someone who has been through a similar experience as our riders, I know how important it is for them to find their purpose again," said co-founder Craig Anders. "Being able to get out there and have this kind of adventure and independence enables them to regain a sense of direction. It's a huge part of being able to move forward, and it's extremely rewarding to make a real difference in their lives and introduce them to a great network of friends."
Other key Road Warrior Ride sponsors include Sena Communications, Oakley, Phalanx Facilities Management, Camelbak, Harrell Home Services Humanitea, ISO and Transfer Flow. The event would not be possible without the incredible support of these great companies.
To learn more about the Road Warrior Foundation or to purchase raffle tickets, visit http://www.roadwarrior.org.
About the Road Warrior Foundation:
The Road Warrior Foundation is a volunteer-only, 501(c)(3) charity that was formed in 2013 by veterans looking to make a difference in the lives of their fellow soldiers who were injured while serving their country. They acknowledge that people don't necessarily realize how important the aspect of adventure is as a means of rehabilitation. The riders of this event all have type-A personalities. They don't want to be restricted – they want to go out and do something big. "Big" is exactly what the Road Warrior Foundation is aiming for with these signature annual events.