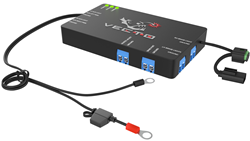 VoloCAN helps BMW and Harley riders to maximize their visibility during normal ride, braking, and even when pulled off on the side of the road
Buckley, WA (PRWEB) November 07, 2017
Vectolabs Corp is excited to announce the launch of VoloCAN, a CANBUS accessory controller from Vectolabs that is compatible with BMW and *Harley motorcycles. The product will be unveiled for the first time at EICMA (Hall 8, Booth B63) in Milan, Italy on November 7, 2017.
As of October 16, 2017, the product is constantly on multiple field testing, and is expected to be available for retail globally in Spring 2018.
About VoloCAN
Vectolabs believes that VoloCAN is the CANBUS controller of choice for riders who place importance in visibility and safety. When installed, the rider will be able to control motorcycle accessories using factory controls and functions on the handlebar. For example:

When the horn is pressed, the auxiliary lights flash to increase the rider's visibility.
Auxiliary lights brightness is adjustable with Wonder Wheel.
10A output for heated jacket or other accessories.
"One of the best ways to stay safe on the motorcycle is to be visible. VoloCAN helps BMW and Harley riders to maximize their visibility during normal ride, braking, and even when pulled off on the side of the road" said Faizal, the Co-founder of Vectolabs.
During EICMA, press kits will be handed out and a product video is also created to improve recognition. Furthermore, distributors and dealers who are interested can register with us and receive a special offer. Early bird pre-orders will receive a limited edition Vectolabs T-shirts. More information can be accessed at official page https://vololights.com/.
About Vectolabs
Vectolabs started out of a humble garage in Oceanside, California in 2013, and the company is now based in Buckley, Washington. Vectolabs is the creator of the best-selling motorcycle brake lights in the US, Vololights. Vectolabs also provides technological solutions to your everyday life and focuses on industrial sensors and Internet of Things (IoT).
For more information, visit http://www.vololights.com or connect with Vololights on Facebook, Instagram, Twitter and YouTube.
*To be released Fall 2018