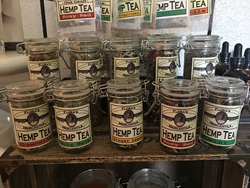 Chris Bedrosian, owner of Flora's Mercantile noted, "This was an incredibly effective campaign for us. We will be back again, especially as the Citizen Toke network grows. We think they are really onto something with this marketing platform."
DENVER (PRWEB) November 02, 2017
CannaSys, Inc. (OTC PINK: MJTK) ("CannaSys"), a marketing, branding, and technology company, today announced that it has realized its first revenues from its Citizen Toke platform, one month ahead of schedule.
Citizen Toke, a direct to consumer, SMS-based marketing platform, has operated in beta format for the last several months to stress test both its underlying technology and market demand.
The most recent campaign was with Flora's Mercantile, a hemp and CBD-specialty branded products company based in Colorado. Citizen Toke's marketing blast was sent to 546 people across the United States and received a nearly 20% response rate. Of those that responded to the deal, 9% completed purchases, netting over $450 in revenue to Flora's Mercantile in a 48-hour period, an ROI of nearly 900%.
Chris Bedrosian, owner of Flora's Mercantile noted: "This was an incredibly effective campaign for us. We will be back again, especially as the Citizen Toke network grows. We think CannaSys is really onto something with this marketing platform."
"We are very happy with these results. Citizen Toke is an equal opportunity marketing platform for the cannabis industry. We noticed variations in conversion rates and user engagement as we put through these blasts, and, while we aim to get our partnered retailers and brands the best return on their investment, we can only control whether a user receives a marketing message in the most engaging form of digital communication, SMS. Conversion rates and ROI are outside of the scope of this product. These case studies with Sträva and Flora's should help illustrate the potential of this platform to reach new customers more effectively than other means," commented Patrick Burke.
Given the limited options for cannabis and CBD-based businesses to effectively market to, and reach, new consumers, Citizen Toke offers an alternative through the use of SMS, creating a simple, direct, engaging, and uncluttered marketing message that can connect new customers with brands.
Citizen Toke offers exclusive, instant, location-based, gamified promotions for cannabis retailers looking to more intimately connect with their consumers directly through SMS. Citizen Toke is an efficient means for retail centers to communicate exclusive promotions to their consumers and to extend brand awareness to current and potential new customers. More details on the technology and business plan of Citizen Toke can be found at White Paper.
CannaSys and its board and senior management remain committed to creating long-term shareholder value and will provide timely updates to shareholders as they occur.
About CannaSys, Inc.
CannaSys is a technology solutions, marketing, and branding company. Its core products are delivered "software as a service" to facilitate point-of-purchase transactions and customer relationship marketing solutions. CannaSys plans to develop, acquire, and build strategic relationships with other businesses in order to bring additional solutions to market. For more information, please visit http://www.cannasys.com and http://www.citizentoke.com.
FORWARD-LOOKING STATEMENTS
This release includes forward-looking statements. Investors are cautioned that such forward-looking statements involve risks and uncertainties, including continued acceptance of CannaSys's products, increased levels of competition for CannaSys, new products and technological changes, CannaSys's dependence on third-party suppliers, and other risks detailed from time to time in CannaSys's periodic reports filed with the U.S. Securities and Exchange Commission.