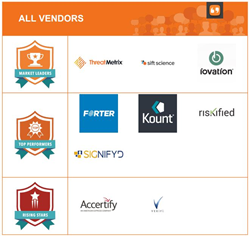 Sunrise, FL (PRWEB) November 02, 2017
Today Featured Customers released 2017's Fall Fraud Prevention Software Report to give company's a better insight on which Fraud Management software works best for their business. ThreatMetrix was crowned the Market Leader in the Fall report, scoring high across all 3 Sentiment Scores that make up the Overall Customer Success Scores. A vendor's overall customer success score is reached via a weighted average of their Customer, Social, and Company Scores.
About the Fraud Management Software Report:
The report is based on over 400 pieces of customer success content from verified users.
Of the 13 products listed in Featured Customer's Fraud Prevention Management category, the products ranked have received the review minimum needed, as well as sentiment score minimum to be considered for the report.
About Featured Customers:
FeaturedCustomers, the world's leading customer success reference platform for B2B business software & services, helps potential B2B buyers research and discover business software & services through vendor validated customer success references content such as customer testimonials, success stories, case studies, and customer videos.
Everyday thousands of B2B buyers from Fortune 500 companies to SMB's use the FeaturedCustomers platform to validate business software & services purchasing decisions to meet their business needs. For more information, go to FeaturedCustomers.com.
Follow us on Twitter or connect with us on LinkedIn.
For more information, please contact:
Gabe Turner
954-318-1469
gabe(at)featuredcustomers(dot)com