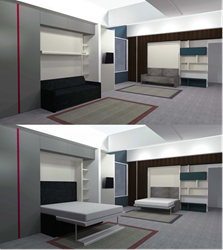 "American households are rapidly evolving but housing isn't keeping up. We look forward to presenting - on a national scale - tangible solutions to this problem."
WASHINGTON (PRWEB) November 02, 2017
Resource Furniture, named "the biggest retailer in the multifunctional space" by The Wall Street Journal, in partnership with Clei s.r.l. of Italy, is proud to announce a major sponsorship for Making Room: Housing for a Changing America at the National Building Museum. Organized with the National Building Museum and housing research organization Citizens Housing & Planning Council, the exhibition will run from November 18, 2017 through September 16, 2018. Making Room will inspire visitors with innovative solutions designed to address the evolving housing needs of modern America's increasingly diverse households.
Changes in lifestyle and demographics are creating shifts in housing demand across the United States: approximately one-third of households are now single adults living alone; roommate and multi-generational living situations are on the rise; and with a rapidly aging population, housing options that support aging-in-place are becoming more and more necessary. Making Room will discuss these issues and present real-world options for addressing these needs.
The centerpiece of Making Room is The Open House, a full-scale, 1,000 square foot transforming home designed by Italian architect Pierluigi Colombo of Clei s.r.l., the designer and manufacturer of the high-end Italian wall beds distributed in North America by Resource Furniture.
The Open House was designed to demonstrate how a well thought out, flexible space can seamlessly adapt to accommodate three entirely different households, and the interior furnishings will be changed out twice during the exhibition to showcase this flexibility. At the exhibition opening, the home will be furnished to accommodate four Roommates; in February, the home will be re-furnished to house an Extended Family, and in May the interior furnishings of the house will be replaced once again to create two households in one - a Retiree Couple along with a caregiver or renter in their own micro-apartment.
The hyper-efficient layout of The Open House features multifunctional, transforming furniture from Resource Furniture and Clei; an acoustically-sound motorized partition wall system and a sliding partition wall system from Hufcor; a hyper-efficient, transforming kitchen from Ernest Rust; the latest in bathroom fixtures from Duravit; a raised access flooring system from Newfloor with porcelain tiles throughout from Ceramics of Italy; plus many more innovative products.
"We are thrilled to build upon the success of the previous presentation of the Making Room exhibition at the Museum of the City of New York in 2013 – and to work with Citizens Housing & Planning Council, Pierluigi Colombo, Clei and the National Building Museum," said Ron Barth, co-founder of Resource Furniture. "American households are rapidly evolving but housing isn't keeping up. We look forward to presenting - on a national scale - tangible solutions to this problem."
In addition to The Open House, the exhibition will highlight cutting-edge projects from around the country, including:

Micro-apartments
Shared housing experiments
Backyard accessory cottages
Tiny houses that are helping the formerly homeless
Co-housing communities
The exhibition opens to the public on Saturday, November 18, 2017. A press preview will be held on Thursday, November 16 at 10 am. Please RSVP to efilar@nbm.org.
Learn more at https://www.nbm.org/exhibition/making-room/
ABOUT RESOURCE FURNITURE
Resource Furniture is the original – and largest - source for cutting-edge, multi-functional living systems, offering the most inspired and innovative furniture solutions available in the world for more than 17 years. With nine showrooms – in New York, Los Angeles, San Francisco, Washington D.C., Toronto, Vancouver, Calgary, Montreal and Mexico City – Resource Furniture continues to define and revolutionize the industry by offering the most technologically innovative, space-saving and sustainable products in the world, all of which transform any space with both beauty and functionality. http://www.resourcefurniture.com
ABOUT CLEI
Based in Brianza, Italy, Clei, s.r.l. has been the global leader in the design and manufacturing of smart, transformable furniture since 1963. With a focus on research and innovation, the second generation of the Colombo family continues to maintain the standards set by their founding fathers, producing the most innovative and highest quality products available. Clei's unique, patented furniture is distributed worldwide to an ever growing and increasingly appreciative audience. http://www.clei.it
ABOUT THE NATIONAL BUILDING MUSEUM
The National Building Museum is America's leading cultural institution dedicated to advancing the quality of the built environment by educating people about its impact on their lives. Through its exhibitions, educational programs, web content, and publications, the Museum has become a vital forum for the exchange of ideas and information about the world we build for ourselves. Public inquiries: 202.272.2448 or visit http://www.nbm.org. Follow us on Twitter: @BuildingMuseum and Facebook: http://www.facebook.com/NationalBuildingMuseum.
ABOUT CITIZENS HOUSING & PLANNING COUNCIL
Citizens Housing & Planning Council is a nonprofit research and education organization focused on housing in New York City. CHPC's mission, since 1937, is to develop and advance practical public policies to support the housing stock of the city by better understanding the most pressing housing and neighborhood needs. http://www.chpcny.org
PRESS CONTACT
Laura Anderson
Resource Furniture
laura(at)resourcefurniture.com
212-753-2039