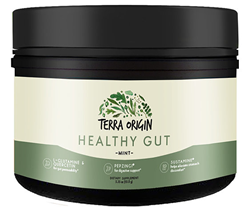 Ancient Sources of Modern Wellness
NEW YORK (PRWEB) November 02, 2017
Good gut health means tight intestinal junctions. When intestinal tract junctions loosen, substances can leak into the bloodstream—resulting in bloating, gas, cramps and food sensitivities.
TERRA ORIGIN created Healthy Gut to improve gastrointestinal support using scientifically tested nutraceuticals, including Sustamine® L-Alanyl-L-Glutamine. Sustamine® is a dipeptide of glutamine – the most abundant single amino acid in the body – that provides several substantial benefits such as enhanced recovery, immune system support, and increased metabolic rate.*
"The science behind Sustamine® demonstrates that it is a highly stable form of glutamine, soluble, taste-free and ultra-pure, making it the perfect for our Healthy Gut formulation," said Eric Fuller; VP/GM Terra Origin. "Terra Origin was created with the vision of connecting research-backed solutions and ancient, natural traditions in health with a holistic line of products to promote healthy life and longevity."
Healthy Gut includes L-Glutamine, which helps maintain gut permeability and preserve mucosal structure. It also contains N-Acetyl-D-Glucosamine that may have a soothing effect on the intestinal tract.*
TERRA ORIGIN Healthy Gut comes in mint flavor in a 30-serving container. For more information, visit https://www.terraorigin.com/green-superfoods-healthy-gut.
About TERRA ORIGIN
TERRA ORIGIN was created to connect the gap between research-backed solutions and ancient, natural traditions in health. Innovated by a team of scientists, our holistic line of products promotes healthy life and longevity. Inspired by the ancient practice of Ayurveda, TERRA ORIGIN is a thoughtful, scientifically supported line of nutraceutical supplements and powders. We believe in a rounded approach to nurture your mind, body, and spirit; empowering you to tackle those daily inhibitors that physically and emotionally get in the way of unearthing your potential. We only use the highest quality ingredients—really. Our highly talented and qualified in-house scientists and technicians analyze each and every raw material before they are formulated into our supplements and powders. Held to the most rigorous standards set by the FDA, we develop, test, produce, and package all under one roof so you can feel good about incorporating TERRA ORIGIN into your daily routine. For more information, visit https://www.terraorigin.com/.
About Sustamine®
Sustamine® L-Alanyl-L-Glutamine is a stable dipeptide of L-Alanine and L-Glutamine. Sustamine is more easily absorbed by the body than complex protein molecules. Vegetarian, allergen-free and the only GRAS L-Alanyl-L-Glutamine, Sustamine® is also tasteless, odorless, and stable in liquids.
Sustamine® is an ingredient that works on multiple levels to help rehydrate the body and sustain energy levels during exertion. Sustamine combines L-Glutamine (the most important amino acid for stimulating muscle protein synthesis) and L-Arginine (an amino acid needed for rebuilding your body's glycogen stores).
For more information on Sustamine, visit: http://www.sustamine.com.
About Kyowa Hakko USA
Kyowa Hakko USA is the North American sales office for Kyowa Hakko Bio Co. Ltd., an international health ingredients manufacturer and world leader in the development, manufacturing and marketing of pharmaceuticals, nutraceuticals and food products. Kyowa is the maker of branded ingredients including Cognizin® Citicoline, Pantesin® Pantethine, Setria® Glutathione, as well as Sustamine® L-Alanyl-L-Glutamine. For more information, visit http://www.kyowa-usa.com.
*These statements have not been evaluated by the Food and Drug Administration. This product is not intended to diagnose, treat, cure, or prevent any disease.