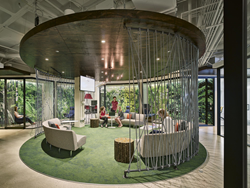 Global Solutions transcend all areas of expertise while removing barriers, roadblocks, and limitations to your success. John "Ozzie" Nelson Jr Chairman & CEO of NELSON
PHILADELPHIA (PRWEB) November 02, 2017
Global Architecture, Design, and Consulting Services firm, NELSON, is launching a new initiative to help large multinational brands realize their business and real estate goals. Global Solutions provides clients a fully integrated experience by combining practice, service, and regional leaders they can create boutique solutions designed to meet clients' specific needs.
"Global Solutions transcend all areas of expertise while removing barriers, roadblocks, and limitations to your success. For clients who need more than just a designer or an architect, our combined, industry-specific knowledge of our practice areas and unique mix of services allows us to create the perfect combination that fits the ever-changing needs and goals of our clients with teams to deliver wherever it is most needed," said John "Ozzie" Nelson Jr, Chairman and CEO of NELSON.
Global Solutions represents a significant portion of NELSON's work as they currently work with 40% of the Fortune 500 companies. It will be led by Kristin Rohman Rehkamp and Lori Strasser who bring nearly 50 years of combined experience and leadership to this initiative.
Rehkamp brings nearly two decades of experience working on both the design and client side. She started as an interior designer before transitioning to corporate real estate and planning, then corporate operations and then back to design. She passionately brings a client perspective to our work and team.
"For decades, NELSON has serviced some of today's most recognized brands, helping them to actualize their real estate goals. I look forward to working with and leveraging the expertise of NELSON's Global Solutions Leaders to advance the added value of our comprehensive design services," said Rehkamp, Vice President of Global Solutions.
Strasser has been an integral part of the NELSON team for 30 years where she has led some of our largest accounts enabling her to continuously leverage her experience to elevate our operational practices through people, process, and tools.
"I am excited to grow NELSON's Global Solutions Team. I have gained valuable insight into client goals and how strategic real estate management and design solutions help not only create a more productive workspace, but also allow companies achieve their business goals," said Lori Strasser, Vice President of Global Solutions.
The formation of Global Solutions comes 18 months after NELSON hired Scott Foster as Chief Operating Officer. One of his first goals was to identify ways NELSON could enhance the servicing of their largest clients with both a more strategic and integrated approach.
For more information about NELSON's Global Solutions, visit NELSONOnline.com.