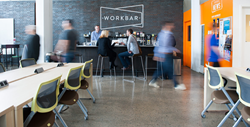 "This relationship is an exciting opportunity to expand the Workbar brand and deploy our Hub and Spoke model to new markets."
BOSTON (PRWEB) November 15, 2017
Workbar LLC, a Massachusetts based coworking pioneer, and Apamanshop Holdings Co. Ltd. (JASDAQ 8889), a Japanese real estate company, are pleased to announce a strategic partnership.
Apamanshop, owner of Japanese coworking brands Fabbit, Growth Next, and Office Attend, has made a strategic investment in Workbar to accelerate its growth. Workbar will continue to add new Boston area locations to its already established network of coworking spaces, while simultaneously expanding into new U.S. and international markets.
Workbar's proven "Hub and Spoke" model pairs downtown and surrounding suburb locations to create a regional network of coworking spaces convenient for entrepreneurs, startup companies, and enterprise employees alike. Workbar's unique design and proprietary software platform fosters connectivity amongst its members to create an unparalleled community of professionals.
Fabbit, a pioneer in the growing Japanese startup culture, continues its expansion, often working closely with local municipalities to build and develop the Japanese startup ecosystem. Together Workbar and Fabbit intend to build a global brand of coworking spaces, with a vision to expand into new markets within Asian, the United States and beyond.
"Our organizations have a like-minded approach to the coworking experience. I look forward to creating cross-collaboration between our companies and our collective members," says Bill Jacobson, Founder and CEO of Workbar. "This relationship is an exciting opportunity to expand the Workbar brand and deploy our Hub and Spoke model to new markets."
"We've been impressed by the innovative spaces, strong community building, and compelling value proposition of Workbar. We saw a great fit with our focus on Japanese entrepreneurs and startup companies who need a supportive working environment to do their best work," notes Omura-san, CEO and Founder of Apamanshop. "Workbar and Fabbit, through close collaboration, will bring exciting opportunities to the startup ecosystem worldwide."
ABOUT WORKBAR
Workbar operates a growing network of coworking locations in Greater Boston, and provides technology to other coworking companies. Workbar's locations are a collection of vibrant and buzzing workspaces shared by a community of over 1,800 entrepreneurs, start-ups, and remote enterprise professionals. The result is a high-energy place to work and collaborate. Workbar is leading the way on defining how workspace – both for individuals and large companies - is purchased and functions in today's mobile, on-demand economy. To learn more, visit: workbar.com
ABOUT APAMANSHOP HOLDINGS
Apamanshop Holdings Co., Ltd. engages in real estate intermediary, property management, investment funds, and other businesses in Japan and internationally. It offers rental housing brokerage, leasing placement brokerage franchise, information infrastructure, semi-administrative, and related services; leasing management and sublease operation services; rental estate investment services; franchise construction services and system development services. The company was founded in 1999 and is headquartered in Tokyo, Japan.