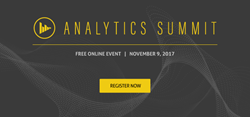 This event is all about helping organizations combine the right expertise, technology and vision for the future to compete in the digital world and delight their customers.
SILICON SLOPES, Utah (PRWEB) November 06, 2017
ObservePoint is pleased to announce their second annual virtual Analytics Summit, an online event for the analytics and digital marketing community, to be held on November 9, 2017 from 11am - 5pm EST.
 
The Analytics Summit is a free, one-day conference that brings together over 5,000 digital marketing and analytics professionals from around the world to discover new strategies, develop new skills, and network with one another in a dynamic virtual environment.
The event showcases more than 25 industry experts and digital analytics thought leaders who will present on "Strategies for Success in 2018," the theme at this year's Analytics Summit.
Keynote speakers include:

James McCormick, Principal Analyst at Forrester Research
John Pestana, Co-Founder at ObservePoint and Omniture
Matt Gellis, Founder & CEO of Keystone Solutions
Peter Symuleski, Manager of Data and Analytics Strategy at NBCUniversal
Brent Dykes, Director of Data Strategy at Domo
In addition, attendees will hear from data analysis and validation leaders, executives, and pioneers from Adobe, Blast Analytics and Marketing, Analytics Pros, Google Analytics, NBCUniversal, Cognetik, Tealium, Yamaha Corporation of America, Nickelodeon, Viacom Networks, Search Discovery, MaassMedia, 33 Sticks, Cardinal Path, Napkyn Analytics, Merkle, and Analytics Demystified.
"The Analytics Summit gives companies a chance to sharpen their axe when it comes to doing more with their big data," said Chris Baird, VP of Marketing at ObservePoint. "When companies correctly collect, analyze and apply data, they set themselves apart from the competition. That's what this event is all about: helping organizations combine the right expertise, technology and vision for the future to compete in the digital world and delight their customers."
Any interested in attending this event can learn more the online Analytics Summit and register today, at no cost, by visiting the event website.
"One of the greatest things about holding an event like this virtually on the web is that it is incredibly convenient and accessible," said Baird. "Viewers can join from their couch or their office, all it takes is an internet connection, and if they are unable to watch the proceedings live, they can still gain access to the presentations in on-demand format after the event, as long as they fill out the event registration so we can send them their login credentials."
For any further interested in the content and schedule of the 2017 Analytics Summit, the full agenda is also available online prior to the event opening.
About ObservePoint
ObservePoint empowers data-informed companies to trust their data and better serve their customers through the application of best practices in web tag auditing. Founded in 2007 by John Pestana and Rob Seolas, ObservePoint pioneered automated web and app analytics auditing. ObservePoint's patented WebAssurance™ and AppAssurance™ technologies audit millions of pages and mobile apps every month to report data loss, inflation and leakage to web analytics managers and stakeholders of the world's leading enterprise companies. ObservePoint's Data Quality Assurance solution ensures that customer data is accurately collected, utilized, and safeguarded, giving your organization the confidence to make better decisions based on better data.
For more information, please visit http://www.observepoint.com/.