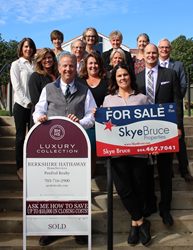 Richmond, Va.-area brokerage firm Skye Bruce Properties joins Berkshire Hathaway HomeServices PenFed Realty as an affiliate.
Reston, Virginia (PRWEB) November 03, 2017
Berkshire Hathaway HomeServices PenFed Realty, one of the country's fastest-growing real estate brokerages, announced today that Skye Bruce Properties, a top-ranked independent brokerage firm in Richmond, Va., has joined the company as an affiliate.
"We are extremely pleased and excited to welcome Skye, David and their extended family of agents into our company," said Kevin Wiles, president and CEO of Berkshire Hathaway HomeServices PenFed Realty. "They've grown their firm into one of the most innovative and successful independent brokerages in Richmond, and we consider it an honor and a confirmation of our values and benefits when a top-performing firm like Skye Bruce Properties decides to partner with us."
Led and co-owned by broker Skye Bruce and partner David Bruce, Skye Bruce Properties has consistently been a top-producing real estate group in Central Virginia for more than a decade. The firm will operate as the Short Pump/Glen Allen sales office in Richmond for Berkshire Hathaway Home Services PenFed Realty as an affiliate. Skye Bruce will continue as managing broker at their current location at 100 Concourse Drive in Glen Allen. The transition will be complete on December 1, 2017.
"As a full service real estate firm, we are always looking for ways to bring more value to our clients," said Skye Bruce. "We are excited to affiliate with a brand that carries the name of Warren Buffett's Berkshire Hathaway Inc., one of the world's most trusted and respected corporations. We believe both our clients and agents will appreciate the added value and marketing potential the brand will offer, and use it to their advantage."
Skye Bruce Properties will continue to grow its market share in the Short Pump/Glen Allen area, as well as other targeted communities, including the Atlee/Mechanicsville area. Skye Bruce Properties intends to significantly expand its agent roster over the next 24 months.
"We're looking for professionals who share our entrepreneurial spirit and commitment to clients and community," said David Bruce. "Our vision is to build an organization devoted to equipping a new generation of real estate entrepreneurs with the knowledge, tools, mindset and support needed to provide their clients with the absolute best real estate services available. Building a successful business can be the adventure of a lifetime and gives us the opportunity to give back and make a significant contribution to our community."
With this transition, Skye Bruce Properties gains access to Berkshire Hathaway HomeServices' Global Network Platform, a powerful suite of tools focusing on marketing support, social media, video production/distribution, professional education, lead generation and the exclusive Berkshire Hathaway Luxury Collection designation for high-end listings.
"We congratulate Skye Bruce Properties and PenFed Realty on their exciting partnership," said Gino Blefari, CEO of HSF Affliaites. "We look forward to supporting them and their continued success in the years ahead."
Skye Bruce Properties can be reached at 804-467-7041 or via email at skye(at)skyebruce(dot)com.
About the company
Berkshire Hathaway HomeServices PenFed Realty (http://www.penfedrealty.com) is a full-service real estate company with an annual sales volume of $2.8 billion. The company has 1,800 agents and more than 50 offices, providing complete real estate services nationwide. PenFed Realty is a wholly-owned subsidiary of PenFed Credit Union, a financial institution with more than $23.6 billion in assets and more than 1.6 million members worldwide. PenFed Realty is a member of the Berkshire Hathaway HomeServices brokerage network, operated by HSF Affiliates LLC. We are proud to be an equal employment opportunity employer. Equal Housing Opportunity.