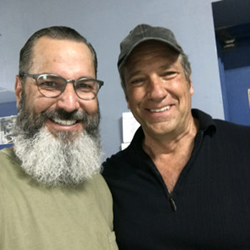 FREDERICK, Md. (PRWEB) November 04, 2017
Frederick-based interior design company Zoltan Design Co. recently had the opportunity to collaborate with famed "Dirty Jobs" star Mike Rowe on his new Facebook series "Returning the Favor," a reality social media show that supports those who dedicate their lives to helping others in their communities.
The episode aired on October 17 with the Zoltan Design Co. team at the front and center of implementation. The company provided Melissa Badeker's business, Baltimore Teachers Supply Swap, a much-needed renovation. As a former Baltimore, Md. teacher, Badeker wanted to find a solution for local schools that are underfunded and undersupplied. Her business is open to teachers in the area who need a helping hand by providing them with items such as pencils, paper, notebooks and more.
Drawing inspiration from Badeker's own business vision, Christopher Ritchie, head designer for Zoltan Design Co., knew the space should be interactive and fun. Ritchie and his team incorporated exciting, up-to-date colors all throughout the building to aid in coding supplies and shelving systems. Ritchie also provided modern, comfortable furniture inside the warehouse to make it more upbeat and functional for teachers shopping at the swap.
The Zoltan Design Co. team was able to help Rowe transform Badeker's disorganized space into a vibrant and welcoming teachers' supply haven in just 24 hours. Volunteers worked through the night in order to surprise Badeker, installing an interactive chalkboard, placing school supplies in colorful bins on a new shelving system, and hanging signs down each aisle to make the warehouse easily navigable.
When asked what it was like to work with Rowe, Ritchie said, "It was a privilege and an honor to work with Mike Rowe in this capacity. It was especially meaningful because this project is helping educators in a city that is right in our backyard."
"We love this kind of work and we're thrilled when projects like this come across our desk," continued Ritchie. "It's all about community; it's not about us, it's about giving back."
Watch the latest episode on "Returning the Favor's" Facebook page (facebook.com/ReturningTheFavor).
To learn more about Zoltan Design Co., visit zoltandesignco.com.
About Zoltan Design Co.
Zoltan Design Co.'s team of design professionals has a passion for unique furniture, interior design and custom woodworking projects that are as special as the client asking for them. Led and inspired by founder Christopher Ritchie, Zoltan Design Co.'s unconventional style and bold designs have earned national recognition as a leader in the industry, with designs featured on HGTV as well as creations for high profile restaurants and hotels, such as Bryan Voltaggio's Family Meal in Baltimore and the Bellagio in Las Vegas. Each of their talented and energetic crew members is an expert at evaluating a raw space and turning it into a polished, functional and comfortable environment that's authentic to the architecture and setting. They are dedicated to collaborating with each client, and they can turn any vision into a reality.
# # #
Media Contact:
Sandy Sponaugle
Platinum PR
sandy(at)platinumpr(dot)com
304-702-0350