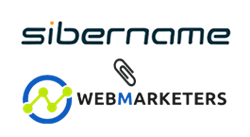 A formidable alliance with Webmarketers.ca enables Sibername clients to enjoy the benefits of vastly expandedweb development and digital marketing services, at a substantial cost savings.
Ottawa, ON (PRWEB) November 06, 2017
Since opening their doors in 2000, Sibername has been providing exceptional hosting, domain registration, and IT solutions to a wide range of companies across Canada. Sibername's mission has always been to "be the best host of internet solutions in order to help increase the online sustainability and mobility of small businesses, individuals and re-sellers." Living up to that mission, Sibername has recently announced a strategic partnership with one of Canada's fastest growing web design and digital marketing companies, WebMarketers. This strategic partnership gives Sibername customers access to bold digital strategies that promote growth, yield strong returns, and "Create Unfair Advantages."
"This partnership ensures my clients have ongoing access to strong marketing and web development services," says Brent Turkoglu, the CEO of Sibername. "We already had a team that builds affordable websites, but by working with WebMarketers, our customers will have access to a local team that develops stronger web strategies as well as the ability to extend a deeper understanding of the entire online sales and marketing... READ FULL PRESS RELEASE
To learn more about this partnership and the new web services, please visit https://www.sibername.com.
To learn more about WebMarketers, visit them online at https://webmarketers.ca.
Sibername Internet and Software Technologies Inc.
275 Slater Street Suite 900, Ottawa, ON, CANADA, K1P 5H9
support@sibername.com
Sibername Support | 1 (888) 333-3860
WebMarketers Inc.
180 Preston Street Suite 200, Ottawa, ON, CANADA, K1R 7P9
info@webmarketers.ca | 1 (844) 932-6688