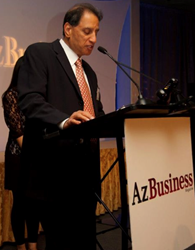 PHOENIX (PRWEB) November 03, 2017
Vermaland today announced that it has made a charitable donation valued at $2.1 million to its foundation.
The Phoenix-based land banking and land development company made the donation through the Verma Charitable Foundation at the Arizona Community Foundation.
Vermaland in 2013 made charitable donations of real estate valued at $1.2 million.
Kuldip Verma and Binu Verma are trustees of the Verma Legacy Trust, a subsidiary of Vermaland. Their daughters, Anita Verma-Lallian and Jennifer Verma established the Verma Charitable Foundation in honor of their parents. Jennifer, while attending business school, had the initial idea of establishing a foundation as she was studying the charitable efforts of other large companies.
With the latest donation, the Vermas continue their family's charitable tradition and company's reputation for community involvement. In 2013, Kuldip Verma was named Philanthropist of the Year as part of the Arizona Real Estate Achievement Awards.
Vermaland possesses the largest holdings of 50 to 1,200-acre parcels in the metropolitan Phoenix region. Its development portfolio includes high quality commercial, residential, and agricultural parcels as well as utility scale renewable energy projects.
The Arizona Community Foundation is Arizona's premier charitable partner trusted by thousands of generous Arizonans. Each fund has a unique purpose, as each was created by a visionary individual, family or organization.
"We strive to make a difference here in the Valley and this donation is part of Vermaland's ongoing commitment to helping the community in as many ways as possible," said Kuldip Verma, CEO and Founder of Vermaland.
About Vermaland
Vermaland, founded in 2001 by engineer Kuldip Verma, is a land banking and land development company based in Phoenix, Arizona. Vermaland buys and sells wholesale land parcels and currently possesses the largest holdings of 50 to 1,200-acre parcels in the metropolitan Phoenix region. Vermaland offers land for residential, commercial, agricultural, industrial, solar, and other renewable projects. The company purchases only high-quality land parcels, which typically have the following characteristics:

Favorable road access
Electricity access
Water access
Proximity to substations
Adjacent to future solar projects