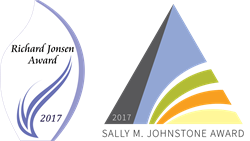 Boulder, CO (PRWEB) November 06, 2017
The WICHE Cooperative for Educational Technologies (WCET) is proud to announce the winners of their annual awards which recognize higher education leaders. The winners were celebrated during the 29th WCET Annual Meeting in Denver, CO on October 26th, 2017.
The Honorable Peter P. Smith, Professor of Innovative Practices in Higher Education, University of Maryland University College and former WCET Executive Council Chair, has been recognized with the Richard Jonsen Award. Dr. Bucky Dodd, Chief Learning Innovation Officer at the University of Central Oklahoma, has been selected as the 2017 winner of the Sally M. Johnstone Award.
The Richard Jonsen Award is given annually to a WCET member whose career has been committed to improving postsecondary educational programs and services through innovative uses of technology as well as for exceptional service to WCET. The award is named in honor of Richard Jonsen, the WICHE Executive Director who nurtured the idea of a technology cooperative and founded WCET in 1989.
Dr. Smith fully exemplifies the career leadership and contributions of Richard Jonsen. Mike Abbiatti, Executive Director of WCET and Vice President for Educational Technologies for the Western Interstate Commission for Higher Education (WICHE), said that Dr. Smith is a "one of a kind, big thinker [who is] passionate about the potential of technology to improve learning outcomes and create informed citizens. He is a scholar on the interconnectedness of education, public good, politics, and business... The advice from this dear colleague always has the health and the future of WCET as the core focus."
Richard Jonsen awardees are acknowledged for their significant contributions to the higher education technology community and willingness to assist others in the field. Dr. Smith served as a U.S. Congressman and the Lt. Governor of Vermont, he is the founding president of the Community College of Vermont and of California State University, Monterey Bay, and spearheaded a personalized degree program for Kaplan, where he developed new services tailored to adult learners. Dr. Smith currently holds an endowed chair position at University of Maryland University College (UMUC) to identify and design improved delivery of learning and support services.
The Sally M. Johnstone award is named after WCET's founding executive director. Sally led WCET from 1989 to 2006, creating the basis for the organization. From WCET, Sally has gone on to leadership positions at several institutions, contributing to be an advocate for student success and technology in higher education. The award recognizes a professional who has made an outsized contribution that goes above and beyond her or his 'rank' to the technology-enhanced teaching and learning community. The criteria include thought leadership, excellence in practice, and demonstrated leadership capabilities.
Dr. Dodd showcases an unparalleled dedication to the Center for eLearning and Connected Environment (CeCE) department's mission to "empower course design, teaching, and learning experiences that are learner-centered, high-quality, flexible, and affordable" and has been instrumental in implementing innovative course design and quality assurance initiatives.
Recent indicators of Dr. Dodd's leadership effectiveness and successes include state and international awards recognizing CeCE teams for effective, innovative, replicable, scalable, and sustainable initiatives to foster success in technology-enhanced education, including recognition from Brightspace and the United State Distance Learning Association. Dr. Dodd's leadership and accomplishments are truly remarkable for his rank and the span of his career to date.
About WCET
The WICHE Cooperative for Educational Technologies (WCET) is the leader in the practice, policy, and advocacy of technology-enhanced higher education. WCET is a national, member-driven, non-profit which brings together colleges and universities, higher education organizations and companies to collectively improve the quality and reach of e-learning programs. WCET is widely recognized as one of the most informative, reliable and forward-thinking organizations regarding the role of technology and innovation in higher education. More information about WCET's institutional membership resources and services can be found on WCET's website - wcet.wiche.edu.