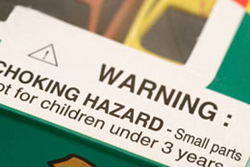 November is a great month to consider whether products are safely labeled, or to take warning labels from adequate to excellent
DENVER (PRWEB) November 07, 2017
November is Child Safety and Protection Month. While parents and guardians of young children can spend this month making sure they've given kids a safe environment to live in, the companies that make products for children have a part to play as well.
These businesses can use Child Safety and Protection Month as a reminder to ensure their items have adequate child safety labels. Appropriate labeling for these products isn't just a good idea - it's the law.
A Time to Check Regulations
Children's labeling requirements are set by the federal government. The Consumer Product Safety Commission treats all consumer items meant primarily to be used by individuals 12 and under as a children's product. These goods are subject to a special set of rules, and brands should take the time to ensure they are in compliance with all relevant rules.
The rules apply to all items that could reasonably be expected to be used by children - simply labeling a product to say "not for children" isn't enough to make it exempt.
When businesses make sure their children's products are all labeled in line with industry requirements, they can focus on reaching out to their customers with the message of Child Safety Protection Month. Safety promotion is a good approach for companies to take with their audiences, as keeping kids out of harm's way will surely be one of consumers' product selection priorities.
"November is a great month to consider whether products are safely labeled, or to take warning labels from adequate to excellent," said Lightning Labels Director of Business Development AnneMarie Campbell. "We at Lightning Labels are happy to help companies succeed by providing the right stickers and labels for the task."
Using the Right Labels
Child safety stickers and labels should be tough enough to stand up to strenuous use. The important safety information and use directions on these labels should stay visible long-term. Tough labels that stand up to the elements are available from providers such as Lightning Labels. Buyers are able to select from a variety of different materials and finishes.
Complying with regulations is vital for companies' continued credibility and success. Combine this with the underlying goal of ensuring products are safe for young people to use, and it's clear how important child safety labels are. Child Safety and Protection Month is a great time to update these packaging elements.
About Lightning Labels:
Lightning Labels uses state-of-the-art printing technology to provide affordable, full-color custom labels and custom stickers of all shapes and sizes. From small orders for individuals to the bulk needs of big businesses, Lightning Labels is equipped to handle and fulfill custom label and sticker projects of all types. Best of all, like the name implies, Lightning Labels provides a quick turnaround for every customer's labeling needs. Uses for Lightning Labels' custom product labels and custom stickers include food packaging and organic food labels, wine and beverage labels, bath and body labels, and nutraceutical products, such as vitamins, essentials oils, and herbal remedies, as well as event stickers, adhesive window stickers and more. Lightning Labels strongly supports the development of environmentally friendly printing materials and carries EarthFirst PLA, a new kind of green label material made from corn instead of petroleum. While operating as a high-tech printer, Lightning Labels prides itself on its personalized customer service. Lightning Labels provides one stop shopping for all of your custom label needs. For more information and to place orders online, visit LightningLabels.com. For the latest in packaging news and labeling promotional offers, find Lightning Labels on Twitter (@LightningLabels), Facebook, Pinterest, Google+ and LinkedIn.