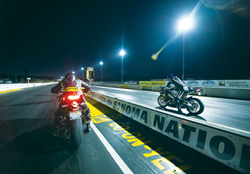 The end of this drag race is actually just the beginning of a new era of competition
(PRWEB) November 03, 2017
The pinnacle of electric performance- the Lightning LS-218 and the pinnacle of gasoline performance- the Kawasaki H2 meet at Infineon Raceway for a head to head competition.
Zack Courts, from Motorcyclist Magazine, and his team rode both bikes across San Francisco Bay. Both bikes are virtually neck and neck. "Keeping up with the best Kawasaki has to offer is a monumental step forward for electric motorcycles.... What the electric motorcycle industry needs is more emotion."
Kawasaki Heavy Industries is a colossal business, more than 100 year old with 34K+ employees working on trains ships, aerospace, gas turbines and industrial robots. H2 is the best ideas the brain trust of a global superpower enterprise can assemble.
The Lightning vs. H2 competition had the elements of a David vs. Goliath battle.
Lightning is a young electric motorcycle company, started 11 years ago. Nothing happens in an instant, but Lightning's technologies evolution has been rapid. LS-218 named after the top speed of the land speed record setting by Lightning.
Riding motorcycle is not just about speed. As Zack wrote in the article, "Motorcycling is about a connection with the machine. Whether it's freedom or exhilaration, there has be a sense of togetherness.... Performance is a pillar of motorcycling imagination..."
"What it means is that the end of this drag race is actually just the beginning of a new era of competition." You don't want to miss this article. Get a copy of Motorcyclist magazine and read the full article.
Innovation is Lightning's DNA and drives our passion for building the best motorcycles in the world. At Lightning, that innovation, that drive for excellence, is not limited to the LS series of Super and Hyper bikes, it is in the design, the technology, reliability, ride-ability and the amazing fun factor of all our bikes.
Stay tuned for more technology news, and more very exciting bikes from entry level to Hyper bike, from Lightning Motorcycles, the Most Technologically Advanced Motorcycle Company in the World.