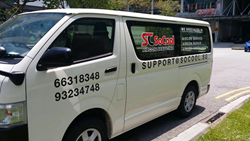 A great team of techinicans for air con service. Always warm and friendly giving appropriate advise on their services. Does not push for sales but advise accordingly to need. Engaged them for 3 of my family apartments with yearly contract as are comfortable with long term servicing with them.
SINGAPORE (PRWEB) November 11, 2017
Nowadays, air conditioning is not a luxury but a "must" especially for those who live in places of tropics. In sunny Singapore, people living in the republic often beat the heat by blasting their air conditioner to full capacity. However with each frequent use, some damage to one's air conditioning equipment is bound to happen over a period of time. Imagine coming back home after spending a long sweltering day outside, only realising that your only air conditioner in the living room is not working.
Have no fear folks, as SoCool.Pte Ltd is here to save the day! A household name here in Singapore, this well known Singaporean aircon servicing company have been providing a cool relief to their heat phobic clients for many years, giving them top service when it comes to their various air conditioning woes - nothing but at the best bang for the buck.
The thing that differentiates SoCool from other rival air conditioning service companies out there is that SoCool provides its clients 24/7 aircon servicing. Regardless of day or night, clients who have a sudden air conditioning malfunction can immediately contact SoCool's team of aircon specialists to come to their rescue. Upon arrival, the team would work fast to ensure your air conditioning issue is taken care of at your convenient time and as quickly as possible.
Among the range of airconditioning services offered by SoCool includes normal servicing, parts replacement, troubleshooting, chemical servicing, aircon overhaul and gas top up. Even though SoCool is armed with an impressive list of services, rest assured that the company does not charge its clients extragavantly. In fact, even the most common range of aircon services such as normal servicing is priced extremely reasonably. For example, the servicing rate for the first FCU is priced at $40 while services which require more than five FCU's is priced at a mere $19/FCU - thus making it an even more attractive deal to the eyes of a prospective "would-be" client.
Since SoCool have years of experience in servicing air conditioner of all kinds, therefore the company has the right expertise in dealing with all aircon brands available in the market. Just name whatever brand, type, or model it is - and an experienced technician from SoCool's will be on its way in a jiffy to service your air con properly.
From the official SoCool's website, clients can read more about the company's aircon services and charges. For appointment or enquiries, all one have to do is by simply filling up the featured form and submitting it with their details where representatives from SoCool will get back to him or her soonest. Otherwise, jobhunters can join the SoCool team by checking out the career section from time to time to see if there are any job postings available.
The credibility of SoCool's can be vouched from the various testimonials and reviews given by its clients on the company's website. So far, many have spoken nothing but "positive" comments mainly on its service, professional ethics and most importantly, great "value-for-money" pricing.
You can go to SoCool.Sg website at https://www.socool.sg/ or contact them by phone at 6631 8348 or by fax at 6460 0190. Their company's hotline is available for 7 days a week from 8am to 10pm. Visit their office at : SoCool Pte Ltd, 22 Sin Ming Lane #06-76 Midview City Singapore 573969.