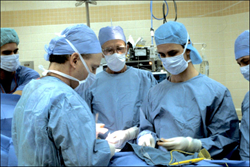 We are honoring a legacy of excellence and innovation in cardiac surgery that has set the standard for exceptional patient care in our region and nationally for nearly three quarters of a century.
PITTSBURGH, PA (PRWEB) November 03, 2017
The Magovern name has been synonymous with cardiothoracic surgical excellence in the Pittsburgh region and beyond for seven decades. Tonight, Allegheny Health Network (AHN), a Highmark Health company, will mark the 60th anniversary of Dr. George Magovern Sr.'s arrival at Allegheny General Hospital (AGH) with a special event to celebrate the hospital's distinguished past and its continued role at the forefront of cardiovascular medical and surgical care.
"Today, we are honoring a legacy of excellence and innovation in cardiac surgery that has set the standard for exceptional patient care in our region and nationally for nearly three quarters of a century," said Cynthia Hundorfean, President and CEO of Allegheny Health Network. "From the early pioneering efforts of Dr. George Magovern Sr., through the extraordinary work of his two sons and the hundreds of other outstanding caregivers who have touched this program, there has been and continues to be no better place to turn for the most advanced and compassionate cardiovascular care."
At tonight's event at AGH's Magovern Auditorium, AHN will formally announce that fundraising efforts are underway to establish the Magovern Endowed Chair for Cardiothoracic Surgery. The chair will ensure the Magovern family's legacy at AGH endures and flourishes for years to come.
"My father would be incredibly proud knowing this chair is being established in our family's name, as he always cherished the care he was able to provide for his patients at AGH – a sentiment I share to this day," said George Magovern Jr., MD, Dr. Magovern's eldest son and Chairman of the Department of Thoracic and Cardiovascular Surgery for AHN and Surgical Director of AHN's Cardiovascular Institute. "This endowed chair will play a crucial role in helping AHN remain one of the country's leading cardiovascular programs."
Dr. Magovern Sr., drastically changed the life expectancy for patients suffering from aortic valve disease when he partnered with a local engineer, Harry Cromie, in 1962 to develop the Magovern-Cromie suture-less prosthetic aortic valve. A surgery with an almost one-in-five mortality rate suddenly became an almost routine procedure, and the revolutionary valve was widely used throughout the U.S. well into the 1970s. AGH's 60th anniversary event tonight will feature Pat Barrett, a Boston man whose father, Denis, traveled from Ireland to Pittsburgh in 1968 to see Dr. Magovern after doctors in London and Paris had told him there was nothing they could do to help his failing heart. Nearly 50 years later, the same Magovern-Cromie valve the elder Barrett received in 1968 – one expected to last perhaps 20 years – continues to function inside Mr. Barrett, who recently turned 82.
The Magovern family's presence at AGH doubled in 1985 when George Magovern Jr., was recruited to join his father's surgical team and start heart transplant and mechanical cardiac assist programs at AGH. When the American Board of Thoracic Surgery selected Dr. Magovern to membership in 2011, he and his father became the only father and son cardiac surgeons to serve on the board since its inception in 1948. Dr. Magovern Sr., retired from AGH in 1998 and passed away in 2013.
In 1989, George's younger brother, James Magovern, MD, joined his father and brother on the North Side. James Magovern made his mark in research and was AGH's first director of cardiac surgery research and later became the first division chief in cardiac surgery before succumbing to cancer in 2007.
That was the same year AGH launched its Cardiovascular Institute under the leadership of Srinivas Murali, MD, who was recruited to AGH by Dr. Magovern Jr., to oversee the new Institute. In the past decade, it has established and expanded successful multidisciplinary programs that run the gamut of cardiovascular surgical and medical care. That includes: surgical treatment of atrial fibrillation, transcatheter aortic valve replacement (TAVR), diagnostic cardiology, women's heart care, advanced heart failure and pulmonary hypertension, heart transplantation and mechanical circulatory support, thoracic aortic endovascular procedures, minimally invasive and robotic-assisted open heart procedures, and mitral valve clip surgery.
"The Magovern family's impact on heart care in this region and beyond is truly immeasurable," noted Dr. Murali, Medical Director, AHN Cardiovascular Institute. "Building on the foundation established 60 years ago by Dr. Magovern Sr. – and always abiding by his commitment to provide innovative care for the patient – AHN continues to pioneer life-enhancing and life-saving cardiovascular surgical procedures and medical therapies, while always keeping the patient at the heart of everything we do."
###
About the Allegheny Health Network
Allegheny Health Network (AHN.org), a Highmark Health company, is an integrated healthcare delivery system serving the greater Western Pennsylvania region. The Network is composed of eight hospitals, including Allegheny General Hospital, its flagship academic medical center in Pittsburgh, Allegheny Valley Hospital in Natrona Heights, Canonsburg Hospital in Canonsburg, Forbes Hospital in Monroeville, Jefferson Hospital in Jefferson Hills, Saint Vincent Hospital in Erie, West Penn Hospital in Pittsburgh and Westfield Memorial Hospital in Westfield, NY. The Network provides patients with access to a complete spectrum of advanced medical services, including nationally recognized programs for primary and emergency care, cardiovascular disease, cancer care, orthopedic surgery, neurology and neurosurgery, women's health, diabetes and more. It also is home to a comprehensive research institute; Health + Wellness Pavilions; an employed physician organization, home and community based health services and a group purchasing organization. The Network employs approximately 17,000 people, has more than 2,800 physicians on its medical staff and serves as a clinical campus for Drexel University College of Medicine, Temple University School of Medicine, and the Lake Erie College of Osteopathic Medicine.