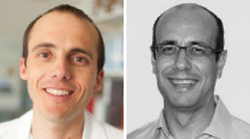 YORBA LINDA, CA (PRWEB) November 03, 2017
Sponsored by Thermo Fisher Scientific, participants will learn from case studies on how to detect simultaneously aneuploidies and monogenic variants of interest, using Ion ReproSeq Preimplantation Genetic Screening (PGS) Kits. The workflow is in less than 16 hours, from amplification to reporting, making the process ready for the complete range of assisted reproductive technology procedures.
Speakers will share results from investigating the different technical solutions available and how they compare to the Ion ReproSeq PGS Kit for the Ion S5 System. The verification and implementation of this platform by a multi-disciplinary team composed of embryologists, geneticists and molecular biologists, will be presented with an emphasis on mosaicism and segmental deletions/duplications. Attendees will also hear discussion on ART applications and personal perspectives from the speakers.
The speakers for this event will be Dr. Fabien Murisier, a scientific director at the Fertas Laboratory and Centre for Medically Assisted Procreation (CPMA); and Dr. Luis A. Alcaraz, a director at Bioarray.
After earning his doctorate degree, Murisier joined the Human Genetics Unit of the MRC in Edinburgh. His research focused on the genetics of embryonic development. He later joined Fertas Laboratory and serves as the scientific director of the Fertas laboratory since 2011 CPMA and is responsible for the in vitro fertilization laboratory of Fribourg, Switzerland since 2013.
Alcaraz obtained his doctorate degree in proteomics, and went on to work in a project to detect biomarkers in the culture media of human embryo related to aneuploidy. He currently serves as the technical manager and co-founder of Bioarray. He developed his scientific career in different fields related to molecular biology, from gene sequencing to drug discovery, but always with a strong interest in bioinformatics.
LabRoots will host the event November 6, 2017, beginning at 8:00 a.m. PST, 5:00 p.m. CET. To discover more about this event, learn more about the speakers, or to register for free, click here.
About Thermo Fisher Scientific
Thermo Fisher Scientific Inc. is the world leader in serving science, with revenues of more than $20 billion and approximately 65,000 employees globally. Our mission is to enable our customers to make the world healthier, cleaner and safer. We help our customers accelerate life sciences research, solve complex analytical challenges, improve patient diagnostics, deliver medicines to market and increase laboratory productivity. Through our premier brands – Thermo Scientific, Applied Biosystems, Invitrogen, Fisher Scientific and Unity Lab Services – we offer an unmatched combination of innovative technologies, purchasing convenience and comprehensive services. For more information, please visit http://www.thermofisher.com.
About LabRoots
LabRoots is the leading scientific social networking website, which provides daily scientific trending news, as well as produces educational virtual events and webinars, on the latest discoveries and advancements in science. Contributing to the advancement of science through content sharing capabilities, LabRoots is a powerful advocate in amplifying global networks and communities. Founded in 2008, LabRoots emphasizes digital innovation in scientific collaboration and learning, and is a primary source for current scientific news, webinars, virtual conferences, and more. LabRoots has grown into the world's largest series of virtual events within the Life Sciences and Clinical Diagnostics community.