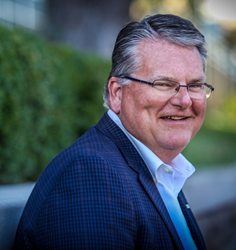 There is no better feeling than joining a team that shares a passion for realizing the potential social and economic impact that sports facility design has on our communities.
ATLANTA (PRWEB) November 03, 2017
Todd Ballew joined HNTB Corporation's sports architecture practice as associate vice president and sports director. He is part of the leadership team focused on serving the professional and collegiate sports markets. Ballew is based in the firm's Atlanta office and supports clients in the Northeast, Mid-Atlantic and Southeast regions, complementing HNTB's established architecture studios in Kansas City, Denver, Dallas, New York and Los Angeles.
"Todd has a unique understanding of what it takes to successfully deliver world-class sports venues, having split his career as an athletics administrator at the University of Tulsa and through his various leadership roles at his prior sports firm," said Gerardo Prado, HNTB sports practice leader and vice president. "He has dedicated his entire career to the advancement of sports and shares the same passion we have for delivering innovative design solutions for all of our clients. We are excited to welcome Todd to the HNTB family."
Ballew brings 25 years of industry experience. Prior to joining HNTB, he was a vice president with Heery Sports and spent the past 15 years serving sports clients nationally. His extensive career experience includes client management, sports facility planning, event management, operations and capital improvements.
Ballew has worked with universities within the most recognizable athletic conferences, including the Southeastern Conference, Pac-12, Big 12, Big Ten and the Atlantic Coast Conference. He is involved in many professional groups, including the Collegiate Event and Facilities Management Association; National Association of Collegiate Directors of Athletics; International Association of Venue Managers; Association of Luxury Suite Directors; and Women Leaders in College Sports.
"I am very excited about joining the HNTB team and collaborating with leaders of the sports practice to further strengthen our position in the market," said Ballew. "There is no better feeling than joining a team that shares a passion for realizing the potential social and economic impact that sports facility design has on our communities. The commitment to elevating the fan experience through design, and the investment that HNTB is putting forth as a company, stimulates me to further contribute to an industry as it relates to my personal passion for athletics."
HNTB's sports architecture practice has experienced rapid growth over the past 15 years and designed San Francisco 49ers Levi's® Stadium; Denver Broncos Sports Authority Field at Mile High; Michigan Stadium; California Memorial Stadium; Toledo, Ohio's Huntington Center; and Camping World Stadium in Orlando, Florida. HNTB is currently working on the new Raiders Stadium project in Las Vegas; Sacramento Republic FC's new Major League Soccer stadium; Milwaukee Bucks new National Basketball Association arena; University of Texas Darrell K. Royal – Texas Memorial Stadium; Illinois University's Football Performance Center; Louisiana State University Football Operations Center; The Ohio State University's Ohio Stadium; University of Kansas Memorial Stadium; University of Kentucky new baseball stadium; Arizona State University Sun Devil Stadium; and University of Iowa Kinnick Stadium.
About HNTB
HNTB Corporation is an employee-owned infrastructure solutions firm serving public and private owners and contractors. With more than a century of service, HNTB understands the life cycle of infrastructure and addresses clients' most complex technical, financial and operational challenges. Professionals nationwide deliver a full range of infrastructure-related services, including award-winning planning, design, program management and construction management. For more information, visit http://www.hntb.com.