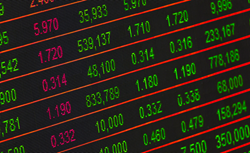 (PRWEB) November 06, 2017
There are a lot of coming changes. Sooner or later that big stock market correction is going to hit. A wall of new tax law changes is set to hit America in the next few weeks. Many individual investors could be facing double digits drops in their returns and portfolio values, if they aren't prepared.
For years analysts have been warning of a stock market drop as large as 60%. Yet, stock prices have just kept on going up. Even the average individual who doesn't love math can figure out that it is slim pickings out there. Stocks are extremely overvalued, even by the calculations of the CEOs of those businesses. Stock market investors really have no protection from a correction, and the ensuing over-correction. The climb back will take likely take a decade or more, if some companies don't go bankrupt altogether.
On top of this, Trump's new tax changes could put a hurting on a lot of individuals. We'll have to see how the net benefits or losses really shape up once the dust settles, but it is looking almost certain that many key tax breaks and deductions will be lost. So, on top of potentially seeing portfolio values fall by double digits, many Americans may have to shell out more to the tax man on the little they have left too.
One of the few legal tax shelters left appears to be retirement accounts. Through self-directed IRAs and 401ks individuals, with the help of their financial advisors can restructure their portfolios into alternative assets like income producing real estate, for more safety and consistent yields. All with strong tax protections.
Many big financial institutions and alternative investment funds are also chasing the security and yields available in this this asset class, though, there are still opportunities for those who invest directly.
SDIRA Wealth is providing access to these opportunities through America's most respected wealth advisors and financial planners, as they help their clients with this big transition.
To learn more visit http://www.sdirawealth.com