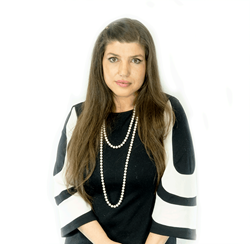 CHICAGO (PRWEB) November 05, 2017
Educator and Consultant Elle Maroutsos heads up new accounts as SDIRA Wealth helps financial advisors adjust to new tax reform
At SDIRA Wealth, Elle Maroutsos is bringing her experience and outstanding reputation for customer service to the company's new clients with its Wealth Advisor Partnerships. Faced with sweeping tax changes in the next few weeks, leaving retirement investment accounts as one of the few breaks left, financial advisors are busy helping clients make essential adjustments to preserve and continue growing wealth.
With SDIRA Wealth's focus on client education, Maroutsos brings valued experience to the companies many self-directed clients. She holds a MBA from Northwestern University, a Master's Degree in Education from Trinity University and is the founder of an international language consultancy. Maroutsos was honored as a "Certificate of Achievement" winner and one of the notable "Women on the Move" by the Chicago Business Journal where she has been recognized for her efforts and display of company values; Positivity, Passion and Dedication.
Maroutsos serves as a key point of contact for the firm's new clients with its emerging Wealth Advisor Partnerships, collaborating to deliver essential education and awareness on self-directed retirement accounts.
She said, "Education is my passion and I am thrilled that everyday I get to teach people about an investment solution which will empower their future. It is my hope that more individuals will choose to educate themselves on alternative strategies that will allow them to retire in a better way."
SDIRA Wealth provides investment firms and financial advisers with exclusive self-directed retirement solutions for their client's portfolios. These income producing investments come with pre-approved, non-recourse financing, leverage and are a great fit for self-directed IRAs, Solo k plans, Real Estate IRAs, and IRA LLCs. As a long term partner with today's emerging and leading wealth professionals, SDIRA Wealth also handles ongoing asset management and reporting through an award winning dashboard which provides investors detailed tracking of their investments and complete transparency.
To learn more visit http://www.sdirawealth.com