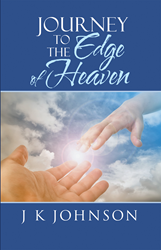 SULPHUR SPRINGS, Texas (PRWEB) November 06, 2017
As a testimony to God's love and mercy, author J.K. Johnson shares her journey through her insurmountable fear of death in her new memoir, "Journey to the Edge of Heaven."
In the memoir, Johnson explains how she spent a lifetime frightened of dying, and praying for God to heal her of her fear.
God then led her to a position as a hospice nurse. In this role, she was forced to look death in the eye every day. She grew to care for patients with terminal illnesses, some of whom passed away while she was with them.
Spending time with her patients completely changed her outlook on death and heaven for the better. She learned God is always looking out for us, and Heaven is a real place and an attainable after-life goal.
One Amazon reviewer describes the book as "a must-read; filled with tears, smiles and laughter; most of all, filled with peace and hope."
"When I took this hospice job, I didn't think I'd be there very long, since death made me so anxious," said Johnson. "But my boss said they'd chosen the right person for this job. They were so right."
"Journey to the Edge of Heaven" will touch readers as Johnson asserts God sometimes has a plan bigger than we may know.
"Journey to the Edge of Heaven"
By J.K. Johnson
ISBN: 978-1512794625 (softcover); 978-1512794632 (hardcover); 978-1512794618 (electronic)
Available at the WestBow Press Online Bookstore, Barnes and Noble and Amazon
About the author
J.K. Johnson grew up in North Central Iowa and suffered from a fear of death; as a Christian, she turned to the Lord for help overcoming this obstacle in her life. Because of the path the Lord laid out for her, Johnson now boasts 11 years' experience in hospice and palliative care and 18 years as a nurse. She currently serves as a clinic nurse in East Texas, and is also a mother of three boys.
###
Review Copies & Interview Requests:
LAVIDGE – Phoenix
Kalin Thomas
480-306-7065
kthomas(at)lavidge(dot)com
General Inquiries:
LAVIDGE – Phoenix
Mark Flores
480-306-6554
mflores(at)lavidge(dot)com