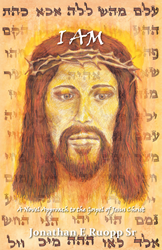 EWING, N.J. (PRWEB) November 06, 2017
Christian author, Jonathan E. Ruopp Sr., utilized his over 35-years of studying the Bible and serving the church to write "I AM – A Novel Approach to the Gospel of Jesus Christ" realizing that many are interested in learning more about the Gospel of Jesus Christ but may not be comfortable reading from the Bible. He also observed that Biblical literacy is in decline and the spiritual significance of the Bible is often misunderstood, feared, and undervalued.
"I AM" is written in novel form in a logical chronology combining the four gospel accounts. The book follows the feasts of the Jewish calendar and is set within the historical context of the time, and it includes Ruopp Sr.'s own spiritual insight into Jesus's words and works.
"The Bible is a difficult read for most of us, and too often it is read in bits and pieces without an overall understanding of its profound significance," said Ruopp Sr. "It is for this reason that I endeavored to write this book: to provide a big-picture view of the gospel; one that would read more like a novel, yet include all the content from each of the four gospels; one that would adequately address the spiritual implications of these historical events; one appropriately
set in the context of Jewish culture and Roman politics."
The book truly contains something for everyone. For the seeker, it provides a good place to start. For the novice, this account will help fill any gaps in understanding the Biblical narrative. And its spiritual message will challenge even the most learned biblical scholars. To learn more please visit: jonathanruopp.com.
"I AM – A Novel Approach to the Gospel of Jesus Christ"
By Jonathan E. Ruopp Sr.
ISBN: 9781512774207
Available at the WestBow Press Bookstore, Amazon, and Barnes & Noble
About the author
Author and devout Christian Jonathan E. Ruopp Sr. has been passionate about God's Word since he was 21-years-old when he spent seven months alone doing nothing but studying the Bible. At age 22, because of his extensive knowledge of God's Word, he was ordained an elder of an independent Spirit-filled church. He spent 26 years compiling a spiritual concordance and writing a book describing its value for understanding the Bible. At age 57, Ruopp Sr. went back to college where he graduated from the Philadelphia Biblical University summa cum laude with a Bachelor of Science degree in the Bible. He has written two biblical plays, and has spent the last two years on this, his second book, which focuses on the gospel of Jesus Christ. Ruopp Sr. has been married to his wife Gail for 29 years; they have two grown children, and reside in Ewing, New Jersey.
For Review Copies & General Inquiries Contact:
LAVIDGE – Phoenix
Lauren Dickerson
ldickerson(at)lavidge(dot)com
480-998-2600