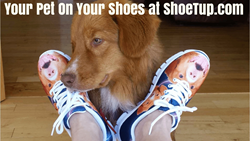 "Shoetup LTD offers a very unique product that pet owners are sure to appreciate."
SPRINGFIELD, Ohio (PRWEB) November 10, 2017
Shoetup Ltd., a comprehensive, full-service shoe development and distribution platform that prints on-demand pet prints for sneakers, tote bags, wrist-watches, bedding sheets, backpacks, and more for a large clientele, this week announced they have been acquired by a new business owner: Phil Fogliani.
As a wildly popular online eCommerce site gearing up for the busy holiday season ahead, the platform is excited to be under new ownership and leadership as they prep for their most successful shopping season to date.
"We wouldn't be anything without our customers, which is why we want to provide them with the very best support and customer service possible," said Fogliani. "I am incredibly excited to have joined as the owner of this successful business, and look forward to treating our loyal patrons with quick, quality, and timely products this forthcoming holiday season."
In addition to the on-demand printed products, Shoetup Ltd. Carries dozens of dog and cat products for every kind of breed, as well as customizable options for shoe products with pictures included of the buyer's very own cat or dog. Patrons can also get pictures of their pigs, parrots, fish, and even cows.
Products listed on Shoetup Ltd. are available for men, women, and children. For interested shoppers, the site features reviews from past customers that attest to the quality attention and support of the platform.
"We proudly showcase our reviews from our customers to help new customers make decisions on purchases," said Fogiliani. "Transparency is the name of the game, and we understand especially today, how important it is to win over consumer's trust. Spread the word on the availability of our products, and head on over now to get a jumpstart on holiday shopping."
For more information, visit: https://shoetup.com/.