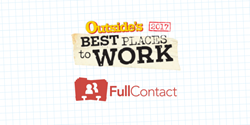 DENVER (PRWEB) November 15, 2017
For the fourth year in a row, FullContact, Inc was named one of OUTSIDE's Best Places to Work. The annual list recognizes winning companies with great workplaces that respect the environment and encourage a balance between work and enjoying the great outdoors. The complete list of companies is available on Outside Online.
"We couldn't be more thrilled to be ranked #29 on the list of Best Places to Work in the country," said Drew Lawrence, Chief of Staff at FullContact. "We strive to be a company that is awesome with people and that is reflected in the culture that our employees have created. We wouldn't be where we are without their hard work and we want to make sure they have a great work life integration."
The winning companies on the list are those that value productivity in combination with an active, eco-conscious lifestyle, for a fulfilling experience inside and outside the office. Headquartered in Denver, FullContact provides an open 'Human to Human' platform that delivers the most accurate and actionable person and company insights. The company has a globally recognized paid, paid vacation policy — providing employees a stipend of $7,500 with the only rule being to completely stay off the grid. FullContact also offers employees three weeks minimum vacation, a Powder Day policy for hitting the slopes, and the option to work remotely anywhere for a month among many other benefits for their 268 employees. A collaborative team atmosphere fosters a transparent, rewarding environment that continues to attract top talent to the company.
About FullContact, Inc.
Founded in 2010, FullContact, Inc. offers industry-leading Customer Intelligence APIs which enable companies to unlock the benefits of understanding their customers and prospects holistically. For more information about achieving enrichment with the highest levels of data quality and security, please visit http://www.fullcontact.com.
ABOUT OUTSIDE: OUTSIDE is America's leading active lifestyle brand. Since 1977, OUTSIDE has covered travel, sports, adventure, health, and fitness, as well as the personalities, the environment, and the style and culture of the world Outside. The OUTSIDE family includes OUTSIDE magazine, the only magazine to win three consecutive National Magazine Awards for General Excellence, The Outside Buyer's Guides, Outside Online, the Outside Podcast, Outside Television, Outside Events, Outside+ for the iPad, Outside tablet edition, Outside Books, and Outside GO, a revolutionary, 21st-century adventure-travel company. Connect with OUTSIDE online, on Facebook, Twitter, Instagram and Pinterest.
ABOUT THE BEST COMPANIES GROUP:
Best Companies Group works with national and local partners around the country and internationally to establish and manage "Best Places to Work," "Best Companies," and "Best Employers" programs on a national, statewide, regional and industry basis. Through its thorough workplace assessment, utilizing employer questionnaires and employee-satisfaction surveys, BCG identifies and recognizes companies who have been successful in creating and maintaining workplace excellence.