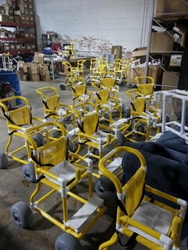 BENICIA, Calif. (PRWEB) November 16, 2017
Stepping Stones for Stella was formed in 2014 as a non-profit charity committed to assisting families with special needs children obtain All-Terrain Beach buggies.
Stepping Stones for Stella is 501(c) (3) charity committed to bettering the lives of special needs children. It's founder, Nicole Puzzo, has a daughter named Stella who was born with Spastic Diplegia Cerebral Palsy. The charities goal, with the buggy donor program, is to provide access for the kids and their families to opportunities and locations that their disabilities have made very difficult if not impossible. Having a Board made up of specialists, in the areas of Business Finance, Design Engineering, Law, Events Planning and Pediatric Orthopedics, they are keenly aware of the challenges facing these kids and their families. To receive a Buggy, Stepping Stones for Stella asks that interested families complete an application on line at http://www.steppingstonesforstella.org/ that has a series of questions about their child's individual needs. The application functions as an order form for the charity to ready a buggy for shipment as well as check system to ensure that the child has been given approval to use the Buggy by his/her physical therapist.
Once applications are received, the team will evaluate the situation and determine if they are able to accommodate the request for a Buggy.
The nonprofit has dedicated itself to making sure that families continue to enjoy the activities they love and realize that although they may need to rewrite the script, they can still find a way to live a life without limits. "Through all the ups and downs that families go through with having a child with special needs, me being one of them, I felt it was so important to find our silver lining. It was from this humble, grassroots beginning that Stepping Stones for Stella was created. A 501(c)(3) nonprofit Organization, whose mission is to provide children with disabilities the freedom to access the great outdoors using our Buggies." stated Nicole Puzzo, Founder & Executive Director of the charity. "The love of the outdoors that our family has enjoyed was so important for us to continue. As a parent of a daughter with special needs, I realized that we are rewriting the script of the life we "thought" we were going to have, but through this journey, I have grown. Because I realize, that rewriting the script, although hard, is also amazing. It has opened my eyes to things I am not so sure I would have seen before."
This program is supported mainly through financial donations made to the Stepping Stones for Stella organization by its many supporters. Donations are also accepted from any source, including Buggy recipients, if financially able. Lack of the ability to donate does not alter eligibility to receive a Buggy. Physical needs are the only criteria. The production cost of a fully adapted Buggy is approximately $600 depending on its size, add-on components and shipping requirements. Donations of any amount are gladly accepted to help offset even a portion of our costs. To date there are 350 buggies in service and the program is expanding rapidly with applications now being accepted for spring 2018 buggy deliveries.
These sturdy, light-weight, all-terrain Buggies allow easy access to many outdoor environments that may require moving across sand, gravel, dirt, grass and even snow. The Buggies are equipped with WheelEEZ® PU Balloon Wheels. These special wheels provide flotation in sand and shock absorption on rough terrain while providing extra stability that resists tipping and handles corners exceptionally well. The Buggy fits in most standard SUV's and because its components are made of UV stabilized, medical grade PVC pipe material and stainless steel, it can also get wet if you wish to splash along the beach front, but only when assisted with an adult. The Buggy can be customized to your child's needs. It has extra support on its sides for growth or a pivot to keep the child's legs from adducting. The Buggy should only be used by children who have independent, unsupported trunk and head control.
Wheeleez, Inc. is the North American Importer/Distributor of WheelEEZ® brand Balloon wheels and ready-to-roll products. Beach enthusiasts and vacationers interested in learning more about WheelEEZ® products can visit http://www.wheeleez.com The special Balloon wheels are also used by a wide variety of industries to move heavy, awkward loads over difficult, challenging terrain. See how well they work here: https://www.youtube.com/watch?v=xTYdniGqob8
Contact Information:
Nicole Puzzo or Melissa Stern
Stepping Stones for Stella
PO Box 74
Swampscott, MA 01907
(617) 785-0076
steppingstonesforstella(at)gmail(dot)com
Otto Werlin
Wheeleez, Inc.
707-751-3999
otto(at)wheeleez(dot)com
http://www.wheeleez.com