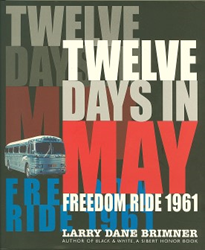 "Crucial to the even-handed writing of the text is a controlled tone, free of unnecessary accusations and sensationalism ... An essential addition to public and middle school libraries." - Voices of Youth Advocates magazine
(PRWEB) November 07, 2017
From the award-winning author of "Black & White," comes the latest in Larry Dane Brimner's 200 books for young readers. The retired educator has featured both fictional and real people from history in his many books. Although aimed at middle school readers, "Twelve Days in May: Freedom Ride 1961" is nonfiction, and it is a revelation for all ages. Booklist calls the book "memorable."
To celebrate the seventh anniversary of the U.S. Supreme Court's desegregation decision of Brown v. Board of Education, a diverse group of 13 riders boarded two buses on May 4, 1961, in Washington, D.C., heading for New Orleans. U.S. law allows anyone to sit in the front of the bus, but in the South, only whites are allowed this privilege. When the buses hit Alabama on May 14, Mother's Day, all hell breaks loose when the black and white riders challenge local customs.
This powerful true story will especially resonate in today's climate. Voices of Youth Advocates magazine states: "Brimner's merger of history with photographs imparts the drama and significance of the Freedom Ride of 1961 ... Crucial to the even-handed writing of the text is a controlled tone, free of unnecessary accusations and sensationalism ... An essential addition to public and middle school libraries."
School Library Journal also recommends "Twelve Days in May". "Brimner, author of several other books about civil rights in this era, knows the material well and presents a straightforward narrative … VERDICT: An essential part of civil rights collections and a worthy addition to all nonfiction shelves."
Among Brimner's other Civil Rights books written for middle school readers: "Birmingham Sunday" was a Jane Addams Children's Honor Book, an NCTE Orbis Pictus Honor Book, and a Kirkus Reviews Best Children's Book of the Year. "We are One" was a Jane Addams Children's Book Award Winner.
About the Author: Larry Dane Brimner, whose books have been awarded the Robert F. Sibert Honor, the Orbis Pictus Honor, and the Carter G. Woodson Award, among others, is the author of 200 fiction and nonfiction books for young readers. With a special interest in civil rights and social justice, he often focuses on these issues in his nonfiction work, but he also writes about sports, natural science, and other diverse topics. A former high school teacher and college instructor, this Florida native now lives in Tucson, Arizona.
Author's Website: http://www.brimner.com
Also look for the author's other new book "Puppy & Bear: The First Day of School."
The compelling new book TWELVE DAYS IN MAY: FREEDOM RIDE 1961 (ISBN: 978-1-62979-586-7) is now available for $18.95 and can be ordered through the publisher's website:
https://www.boydsmillspress.com/bmp/books/non-fiction/twelve-days-may or at Amazon.com or Barnesandnoble.com.