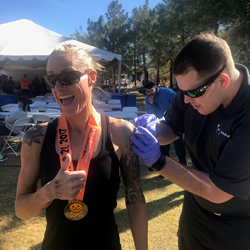 ReSquared provided exactly what we were looking for to boost our event's experience to the next level. We had competitors of all types trying out IV therapy for the first time, and they claimed that it made a huge difference.
Boulder City, Nevada (PRWEB) November 07, 2017
Beginning at Boulder Beach and ending at Wilbur Square in Boulder City, just 25 miles from the Las Vegas Strip, The Pumpkinman Triathlon boasts Sprint and Olympic races with a 5K and 10K run. Showcasing a scenic yet challenging route, due to the gorgeous climb into Boulder City from Lake Mead, the Pumpkinman Triathlon brought together participants, families, and spectators from across the world, and sold out at 1,200 athletes.
Since 2003, BBSC Endurance Sports has been a leader in triathlon production for Nevada and Utah. With all those years of experience, it's no surprise that the organizers at BBSC realized the athletic challenge itself might be the reason a person signs up for a race, but it's not enough to keep them coming back year after year.
"For elite competitors, sure, showing up and performing is what they're here for," says Craig Towler, a Senior Event Coordinator at BBSC. "However, for the majority of our attendees, they're looking for something special outside of challenging their mental and physical fortitudes. They want to feel like they are a part of something bigger, and they want to be cared for...the challenge then, is going that extra step and creating an atmosphere that not only supports athletic determination, but also emphasizes performance recovery for everyone who participates in the races."
ONSITE MEDICAL CARE IMPROVES ATHLETIC PERFORMANCE, BOOSTS RECOVERY TIMES
Jennabea Sturman, a licensed paramedic in Las Vegas, co-owns a leading local IV clinic, ReSquared Medical. The clinic provides locals and tourists alike with IV therapy services for a range of acute conditions, such as jet lag and hangovers, along with athletic preparation and recovery. The ReSquared Medical staff collectively brings over 25 years of experience as licensed medical professionals.
"You'd be surprised how many people forget to take care of themselves when they're here in Vegas," Sturman explains. "Folks come in from out of town all excited to get a piece of Sin City. They'll get carried away, which leads to overindulging, and then they end up with an expensive ambulance ride that they weren't anticipating."
The realization comes too late that Las Vegas is actually out in the middle of the desert, and that going out requires planning before and after. Dehydration and malnutrition affect tourists by the thousands every year, which also makes it a challenge to train in Vegas as a local athlete. An athlete's body is always craving water and electrolytes because it's so dry and hot in the Nevada desert.
So when Sturman heard about The Pumpkinman Triathlon, she knew it was a great opportunity for ReSquared Medical to help serve participants in a new way by means of providing IV nutrient therapy for athletes after the race.
"We believe that onsite medicine is the next generation of healthcare. It's more than just going to a doctor's appointment because healthcare professionals are actually there to support you in whatever you do, wherever you are, whether it's at your job, going out of town for a meeting, or performing at a competitive event."
It's no surprise that many athletes suffer from cramping, dehydration, muscle soreness, etc, and IV infusion treatments promise to alleviate these conditions and shorten recovery periods. The new partnership between BBSC and ReSquared helped athletes to quickly recover after their race by means of onsite care, which can be particularly useful for elite competitors who train for events such as Ironman.
"I've been running with BBSC since 2016, where I participated in my first Pumpkinman Race," explains Michelle Erin Ray, a top-tier competitor at Pumpkinman. "I love the events they put on because they are local and help our triathlon community grow locally. It's such a great opportunity to wake up, drive to a race and see all your friends there!"
In a post-race interview, Ray explains her training journey and her experience in working with ReSquared:
"This year was a big year for me because I started out at the Sprint level, and have been steadily competing at the Olympic level. In September alone I did four races so you would think I was exhausted coming into this year's Pumpkinman, but since I started using ReSquared for IV Infusion recovery this year, I haven't been sore after my races, and have been able to get right back into training and racing. Despite participating in so many events, this Fall alone, I took home 1st Place for Overall Female at Pumpkinman, and owe a huge thanks to ReSquared for keeping me in top form. I can't wait to keep working with them going into next season to keep me healthy for the next BBSC Triathlon!"
The partnership between BBSC and ReSquared brings a new application for IV therapy as competitive tool to reinforce healthy living, and not simply as a hangover cure. Athletes already know how important recovery is in endurance training, and what better than to serve recovery supplements to the athletes after their event when they need it most.
"For this year's event, Jennabea and the staff at ReSquared provided exactly what we were looking for to boost our event's experience to the next level. We had competitors of all types trying out IV therapy for the first time, and they claimed that it made a huge difference. We're definitely looking forward to working with Jennabea and her team again at our next big event!"
ONSITE HEALTHCARE AS A SUPPORTIVE SERVICE FOR ATHLETIC EVENTS IN THE MIDWEST
ReSquared Medical is currently accepting partnership applications for business owners, athletes, and anyone who is interested in providing wellness to their employees or event participants. For partnership information, or general questions, please direct questions to owners Jennabea Sturman or Dave Steed at info(at)resquaredmedical(dot)com.
BBSC is always on the lookout for new partnerships to host the next great athletic event in the Midwest. Serving Utah, Nevada, and Colorado, interested parties can contact Craig Towler at craig(at)bbsctri(dot)com.