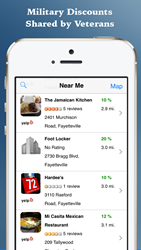 Discount Soldier mobile app is the must have app this Veterans Day.
(PRWEB) November 07, 2017
This Veterans Day, businesses will honor those actively serving or who have served with Veterans Day military discounts, deals and freebies. Veterans will be able to take advantage of Veterans Day military discounts by using the leading military discount mobile app, Discount Soldier. Discount Soldier's mobile application makes it easy for Veterans to take advantage of Veterans Day military deals, including over 100,000 military discounts offered everyday. In addition, Discount Soldier also released its newest version which gives Veterans the opportunity to share reviews with the community.
"Discount Soldier connects Veterans, active duty military personnel and their military families with businesses across the United States," said Discount Soldier Co-Founder Matt Rathbun. "Discount Soldier is must have app this Veteran's Day."
2016 Veterans Day military discounts are wide ranging and many include free or deeply discounted theme park tickets, dining, haircuts, movies, recreational sites, sports, entertainment, retail and even teeth cleanings.
In addition to finding Veterans Day military discounts, Discount Soldier is also used everyday by tens of thousands of Veterans and active military personnel to find military discounts throughout the United States.
"By using Discount Soldier on your iPhone or Android device you can find military discounts in your local community. Veterans may find that their favorite restaurant or store offers a military discount. Veterans will now also have the opportunity to share their thoughts about those businesses," Matt Rathbun said.
Discount Soldier is supported by the largest military discount community. This community adds and shares local military discounts with the goal of supporting businesses that offer a military discount.
About Discount Soldier
Discount Soldier gives Veterans, active duty service members, Reservists, National Guard and their families an easy way to find community verified military discounts. For more information please visit http://www.discountsoldier.com.