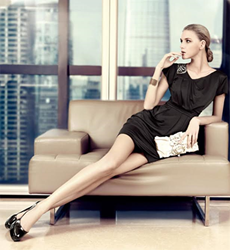 women are drawn to men that they can lean on for daily strength, someone who makes them laugh and whom they find attractive in an intimate way
New York, NY (PRWEB) November 05, 2017
It's not uncommon for the ultra-elite to date outside of their immediate age bracket. In fact, at SEI Club Age Difference Dating, the club executives state that it's actually quite positive and emotionally beneficial for certain couples.
Women can be more multifaceted than men when it comes to enjoying intimacy, physical, and emotional pleasure. They require a reliable, safe, meaningful connection with an emotionally grown-up or evolved gentleman. Relationships that provide a sense of security, reliability, and emotional strength are most appealing for most women.
Says a club spokesperson, "Its no secret that sometimes women evolve emotionally faster than men as they can be more "complex" creatures. They'll often be able to relate to and find genuine comfort in communicating more intimately with a bright gentleman who is anywhere from just a few years (maybe 3 to 5) to 10, 20, or 30+ years her senior. And if that's where they find a connection, they too deserve a loving relationship with someone they adore."
Having experienced tremendous success in facilitating meaningful relationships with Age Difference Dating, the Club has rolled out its program to Asia as well.
But are these women just looking for a "cushy life" with a guy who can buy them things?
According to SEI Club – "Absolutely not. Why would they? All of them have their own careers and passions…they are already living a happy, healthy, well-adjusted, fulfilling life. They're not looking to fill a superficial or tangible, mundane deficit; rather they are healthy, evolved women seeking a loving, healthy partnership with a suitable life partner."
According to the club, women are drawn to men that they can lean on for daily strength, someone who makes them laugh and whom they find attractive in an intimate way…sometimes this connection can be found only with someone who is a bit older. And that's totally normal, healthy, and okay, once we take our own, potentially different, personal judgements out of the mix. If two people are truly happy together, who are we to say they shouldn't wake up next to each other and celebrate life every day?
Some women indeed prefer men who are grown up and reliable, emotionally and financially secure. Ultra-elite men know this.
Finding it extremely common for women to seek older gentlemen (and vice versa), SEI Club Age Difference Dating specializes in bringing those exceptional people together.
According to SEI Club representatives, there are some very beautiful, intelligent women who simply will not seriously consider dating most men their own age. They instead find the deeper, mental connection to be sorely lacking in such relationships…they prefer someone they admire who can also help them grow and develop as an individual…In short, they do not want to be the more emotionally evolved one in their relationships.
Of course women and men who do prefer to meet a lover, partner, and friend their own age, are always welcomed, accommodated and matched at SEI Club as well according to their personal preferences. So it seems, whether you prefer someone your same age or younger or older, SEI Club Elite Dating has you covered.
More information along with a private membership application can be found at the Club's website: SEI CLUB
Find more about SEI Club Age Difference Dating Here: SEI Club Age Difference Dating