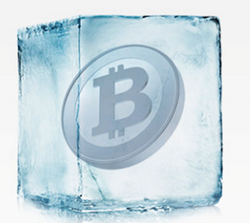 Protect your bitcoins with deep cold storage offline.
NEW YORK (PRWEB) November 08, 2017
Every Bitcoin user faces the growing problem of security. The threat of bitcoin wallet hacking and bitcoin exchange web wallet seizure grows with the price of bitcoin. Losses can be prevented, but they can't be recovered or insured for damages. Prevention of catastrophic bitcoin and crypto-currency losses is the mission of http://www.SafeBoxSwitzerland.com
Crypto-currency fortunes cannot be insured. SafeBoxSwitzerland.com understands crypto-currencies like no other bank safe deposit box company and protects bitcoins in the event of an unexpected event such as the loss of a bitcoin wallet holding device or an Electro Magnetic Pulse that wipes out all computer hard drives, smart phones and back up discs all at once.
Methods of SafeBoxSwitzerland.com bitcoin wallet cold storage include keeping bitcoins:
On a USB drive or other data storage medium in a safe place
On a paper wallet
On a bearer item such as a physical bitcoin.
Use an offline Bitcoin Hardware wallet
SafeBoxSwitzerland.com is the world's trusted custodian of seed phrases, bitcoin paper wallets and encrypted discs with bitcoin wallet private keys. Crypto-currency remains accessible only to the client at all times. The client continues to receive and send bitcoin from a wallet in cold storage. A seed phrase without its corresponding wallet address…or half of a bitcoin wallet private key on a piece of paper… or complete private keys on encrypted discs that only the client has the password for... the beautiful thing about sending backup private keys to SafeBoxSwitzerland.com is that you bitcoin may be spent even when they are in deep cold storage offline in peaceful Colonia, Uruguay, the Switzerland of South America.
Bitcoin deep cold storage is achieved by renting a bank safe deposit box at SafeBoxSwitzerland.com and sending a USB stick containing an encrypted bitcoin backup wallet file. The public (sending) addresses can be used any time to send additional bitcoins to the wallet, but spending the bitcoins would require physical access to the bank safe deposit box in Uruguay in addition to knowledge of the encryption password.
A bitcoin address public key can continue to receive an unlimited amount of bitcoin even if the bitcoin wallet is cold, i.e. offline in storage at SafeboxSwitzerland.com. To send bitcoin out of a cold wallet, a manual procedure is set up that is similar to 2 factor authentication. SafeBoxSwitzerland.com can retrieve a disc or other data out of the vault and send them by courier or transmit data by other means as per client instructions.
If a bitcoin wallet is lost, SafeBoxSwitzerland.com can send the encrypted back up disc to the client wherever he may be in the world. Only the client knows the disc password.
SafeBoxSwitzerland.com can also serve as a third party signatory on multi-signature bitcoin wallets, so that bitcoin cold storage wallets can not be altered without going through a manual, 2-factor authentication, low tech security protocol that can not be hacked on the Internet.
All this for just US$10 per month, payable in bitcoin or SwiftCoin.
There is no need to travel to Uruguay at any time. SafeboxSwitzerland.com works by courier.
Geographic diversity is key to risk management of bitcoin holdings.
SafeBoxSwitzerland.com was founded by Daniel Bruno, Chartered Market Technician and pioneer in the bitcoin space since 2010.