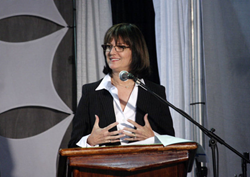 "Even the great Maya Angelou shared that she often felt like an impostor," says Solomon, "No wonder the rest of us feel that way from time to time."
CHARLOTTE, N.C. (PRWEB) November 07, 2017
Author Lou Solomon will be the keynote speaker for the Queens University TWIST Conference Breakfast at the University Sports Complex in Charlotte, North Carolina on Wednesday, February 7, 8:00-9:00am.
Solomon is the founder and CEO of Interact, a communications consultancy based in Charlotte. She struggled for many years with the Impostor Mindset, the symptoms of which she shares with 70 percent of the successful people in the country who are occasionally unable to connect with or believe in their own success.
Solomon's TEDx talk, "The Surprising Solution to the Impostor Syndrome," has been viewed more than a 100,000 times on YouTube. Based on that talk, Solomon wrote and recently published her second book, Freeing Your Radical Hero: Fighting the Impostor Mindset, currently on sale at Amazon. It is a humorous and honest book about changing the internal dialogue that can keep us from enjoying accomplishments.
Solomon's keynote at the TWIST Conference Breakfast will walk listeners through her personal experience and triumph over the Impostor Mindset.
Solomon holds a Master's in Organization Development from the McColl School of Business at Queens University of Charlotte. Her articles about authentic communication in the workplace have been published by HBR.com, CEO.com, Entrepreneur, SUCCESS, Fast Company and more.
Contact: Lou Solomon
lou(at)interactauthentically(dot)com
https://www.linkedin.com/in/lousolomon/
704.374.0423