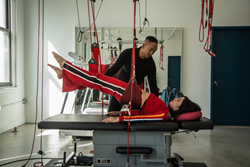 REDCORD sling therapy system allows patients and athletes to recover quicker and more comfortably.
New York, New York (PRWEB) November 06, 2017
CLINICUBE, Founded by one of the top-rated chiropractors in New York City, offering a range of services including physical therapy and sports massage therapy to its patients.
The popular practice, which leverages the latest in medical technology, stated that its focus was to hasten the recovery process using the best medical science and technology in the world today.
As a result, patients attending the clinic for treatment are gaining access to some of the world's best treatments in the heart of New York City with a core team of dedicated medical staff. The team is trained to offer physical rehabilitation at every level, and also offers auxiliary services such as acupuncture and dry needle alongside its physical rehabilitation and medically-supervised fitness programs.
"At CLINICUBE, our mission is to tackle musculoskeletal issues intelligently by combining the use of cutting-edge technology and thinking together with traditional techniques for more effective treatment," said Dr. Noam Sadovnik, chiropractor and founder of CLINICUBE.
"Combined with our focus on a superlative patient experience and a thorough diagnostic to create a personalized plan of treatment, every patient treated here gets the right treatment to ensure that they enjoy a hastened recovery from their injuries. Our aim is to provide a holistic treatment that gets people back on their feet faster than ever before."
CLINICUBE offers a number of innovative therapy options, including the popular Super Pulsed Cold Laser Therapy, a non-invasive, drug-free treatment which stimulates the body's own healing systems while reducing inflammation and promoting cell regeneration.
The clinic also offers Redcord Sling Therapy to provide targeted workouts using bungee cords for support to provide the perfect center of gravity while reducing stress on the muscles. In turn, patients of any age can exercise the correct muscles in an optimum position without pain.
Whether an athlete who needs to get fit again the quickest, most optimal way, or a person suffering from a complaint such as back pain, sciatica, or other physical discomfort, CLINICUBE's professional team is on hand to provide superior physical therapy treatment plans in the heart of New York City.
For more information about CLINICUBE and its world-class physical rehabilitation and recovery treatments which leverage the latest in cutting-edge technology, please visit https://www.clinicubenyc.com. For media inquiries, please contact Dr. Noam Sadovnik at (646) 770-0916 or email info@clinicubenyc.com.
About CLINICUBE
CLINICUBE is a boutique medical wellness facility based in New York City which blends the best of technology-driven fitness and prehab with traditional chiropractic therapy, physical therapy, and sports medicine to exacerbate the recovery process effectively. For more information, please visit CLINICUBE's website.