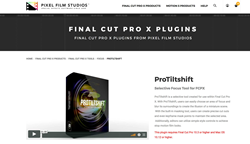 ProTiltshift allows editors to add an area of focus with the click of a mouse.
ALISO VIEJO, Calif. (PRWEB) November 05, 2017
ProTiltshift is a selective tool created for use within Final Cut Pro X. With ProTiltshift, users can easily choose an area of focus and blur its surroundings to create the illusion of a miniature scene. With the built-in masking tool, users can create precise cut outs and even keyframe mask points to maintain the selected area. Additionally, editors can utilize simple style controls to achieve stop motion film looks.
ProTiltshift allows video editors to create the illusion of a miniature scene using selective focus. To use ProTiltshift, browse the FCPX effects section and place tilt shift onto footage in the Final Cut Pro X timeline. Next, cut-out the subject with the intuitive built-in masking tool and utilize the feather slider to soften the mask. Lastly, use the blur slider to determine the degree of focus on the selected area.
ProTiltshift features a built-in masking tool that allows users to expertly add an area of focus with the click of a mouse. Start by clicking on the screen to create points to surround the subject. Double-click a point to change its interpolation from linear to curved. "Command + Double-click" to delete a point. Double-click the line to add a point. Pixel Film Studios' built-in masking tool makes it easy to achieve a precise cut-out.
ProTiltshift features intuitive stylization controls that can be used to enhance the effect of creating a toy scene. Turn on the strobe checkbox to activate the strobe rate slider. With the strobe rate, users can create a stuttering effect that simulates stop-motion films. With the saturation & sharpen slider, editors can achieve a more cartoonish look.
ProTiltshift's built-in masking tool is easily keyframable. This allows users to manually track the movement within a scene so the focal point of the scene can be maintained. To keyframe points, simply complete a mask and click the "Enable Keyframes" button. Next, scrub through the footage and periodically drag the mask points to adjust the selected area.
Established in 2006, Aliso Viejo, California-based Pixel Film Studios is an innovative developer of visual effects tools for the post-production and broadcast community. Their products are integrated with popular non-linear editing and compositing products from Apple FCPX. Apple, the Apple logo, Mac OS X, and Macintosh are registered trademarks of Apple Inc. in the U.S. and/or other countries. All other trademarks and trade names are the property of their respective owners.