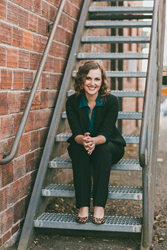 Stephanie is a true leader and I believe is the absolute right person to shepherd us through this period of expansion.
VANCOUVER, Wash. (PRWEB) November 06, 2017
Keller Williams Premier Partners, an education-based, technology-driven company that provides associates and consumers with systems and tools to maximize their capacity for buying and selling real estate, recently hired Stephanie Tanner as its general manager. Tanner will be overseeing both the Battle Ground Business Center and state-of-the-art Vancouver Market Center, which Keller Williams Premier Partners relocated to in 2016.
"I am so excited about where we have been and especially where we are going. Our new facility gives us the room to begin further expansion, which we have been sorely lacking," said Patti Siebold, owner of Keller Williams Premier Partners, with which more than 260 real estate licensees are associated locally. "Stephanie is a true leader and I believe is the absolute right person to shepherd us through this period of expansion. She approaches every situation with an open heart, always coming from contribution and seeking to add value to the lives of those around her."
Prior to her new position at Keller Williams Premier Partners, Tanner was the director of operations for one of the top expansion teams in the Keller Williams network. She has a lifelong love of organizational leadership and has a tenacious work ethic. Tanner, who has called Camas, WA, home for the last 14 years, has been an entrepreneur, worked in the nonprofit sector, has served on various Camas School District volunteer committees, volunteered with youth organizations and won multiple sales awards throughout her distinguished business career.
"The move to Keller Williams Premier Partners and working with Patti and the leadership team is a natural one for me. The leaders are growth-minded and have a tremendous desire to see agents thrive and real estate done right," concluded Tanner. "Furthermore, the systems, models and tools available to real estate professionals are second-to-none at Keller Williams, which was named the No. 1 training company across all industries in 2015 and 2016 by Training Magazine. When well-trained agents thrive personally and professionally, it naturally impacts their clients and the community."
About Keller Williams Premier Partners
Keller Williams Premier Partners is the No. 1 real estate agency in Clark County (and has maintained that status since 2007). A commitment to training and coaching at every level is at the heart of what sets Keller Williams Realty apart. For more information, please call 360-991-4941, or visit http://www.kwvancouver.com.
About the NALA™
The NALA offers small and medium-sized businesses effective ways to reach customers through new media. As a single-agency source, the NALA helps businesses flourish in their local community. The NALA's mission is to promote a business' relevant and newsworthy events and achievements, both online and through traditional media. The information and content in this article are not in conjunction with the views of the NALA. For media inquiries, please call 805.650.6121, ext. 361.