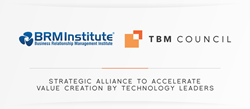 "A strong BRM capability converges cross-functional teams and eliminates value-depleting organizational siloes. We are proud to build this alliance with TBM Council to further the success of technology leaders."
ATLANTA (PRWEB) November 07, 2017
Business Relationship Management Institute (BRM Institute), the world's foremost authority in strategic business partnering and business value assurance through a business relationship management (BRM) capability, announced their entry into a strategic alliance today with the Technology Business Management (TBM) Council. Through this alliance, TBM Council and BRM Institute will expand value for their communities through collaborative projects and events designed to uplift knowledge and awareness of both disciplines.
"CIOs and other IT leaders who have invested in business relationship management capabilities have already shown the commitment to collaborating with their line-of-business executives on the tough tradeoffs they must make to grow, compete and transform," said Josh Harbert, General Manager of the TBM Council. "Our alliance with BRM Institute will help us more formally bridge the capabilities of BRM and TBM, helping our professional members achieve better outcomes for their companies while advancing their own careers."
"A BRM capability strengthens business-IT collaboration and assists in driving a culture of creativity, innovation, and shared ownership across the enterprise. This transformation results in an increase in holistic and innovative strategies created to deliver their intended business value results. When paired together within an organization, TBM and a BRM capability work to elevate IT from the position of a cost-based service provider to that of a converged strategic partner and peer," states BRM Institute CEO Aaron Barnes. "A strong BRM capability converges cross-functional teams and eliminates value-depleting organizational siloes. We are proud to build this alliance with TBM Council to further the success of technology leaders."
About Business Relationship Management Institute, Inc.
BRM Institute is the world's premier membership, professional development, and official certification organization, dedicated to serving the global business relationship management (BRM) community. Incorporated as a nonprofit corporation in February 2013, BRM Institute provides world-class professional membership and development programs to advance the art and discipline of business relationship management and help maximize the BRM capability in organizations worldwide. BRM Institute's mission is to inspire, promote, and develop excellence in business relationship management around the globe through unifying business and business functions such as IT, HR, finance, and more, which results in outstanding business value for organizations and the professional fulfillment of every individual member of the BRM community.
About the TBM Council
Founded in 2012 the Technology Business Management (TBM) Council is a nonprofit organization governed by an independent board of business technology leaders from a diverse group of the world's most innovative companies like AIG, Aon, Cisco Systems, DuPont, ExxonMobil, First American, Microsoft, Nike, and more. The Council is focused on developing a definitive framework for managing the business of IT by establishing standards and providing ongoing collaboration and education opportunities.