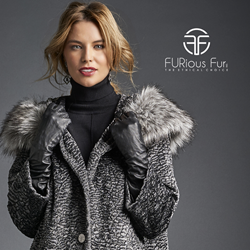 FURious Fur - Defining Modern Vintage. The Ethical Choice.
Toronto, Ontario (PRWEB) November 09, 2017
Inspired designer, Philippa Madigan (Pip) captures the passion for "all things luxurious and vintage" with Canada's newest collection of designer faux fur outerwear and accessories; FURious Fur.
A FURious piece is made from the highest quality faux fur fabric available, knit from the world's finest microfibre yarns and features a custom lining and elegant embossed buttons. FURious Fur believes in making a difference and making ethical choices. Donations are made annually to PETA and other animal rights organizations worldwide.
Philippa, a graduate of FIT in New York, worked in Canada, the US and the UK and returned to Toronto to become the Vice President of Design, Sales and Marketing for one of North Americas largest knitwear manufacturers. Philippa travelled throughout Europe and Asia developing knitwear, accessory, home accent and outerwear collections that sold across the globe. In 2015, she revisited the vision to create a most unique and fashionable faux fur collection, Philippa had closets full of vintage fur coats that she adored, but was troubled by the ethical repercussions of wearing real fur.
FURious Fur was created to bring the glamorous design and luxury of real fur to the modern woman. The Ethical choice.
FURious Fur: Defining "Modern Vintage."
Furious Fur will be officially launched on Friday,November 10th, 2017
SHOPGIRLS
1342 Queen St. West
Toronto, On. M6K 1L4