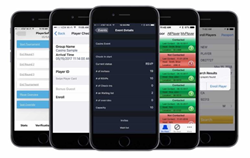 All of our Apple IOS applications are tailor-made for the casino operator...
San Diego, Ca (PRWEB) November 06, 2017
Playersoft originally made headlines for its Mobile Enrollment application after winning the same award in 2012. Mobile Enrollment helps casino operators register players into the casino loyalty program on the casino floor or from any offsite location. Companies like MGM Resorts, Penn National Gaming, Sands and Seneca properties use this program on Apple iPods and iPhones to build their loyalty programs and take player acquisition to new levels. It is well known as the industry standard for mobile player club registration in the casino world.
The new platinum award distinguishes Playersoft as a force to be reckoned with in the software development realm. Led by Tony de Leon, a casino industry IT veteran, Playersoft continues to innovate, automate and streamline casino operations with new technology products like OneCard and Host Player Management, using a unique insight into the needs and requirements of Casino operators.
OneCard has taken the casino sector by storm, providing the ability to reward all guests for total spend by allowing mag-stripe cards to be created at the hotel front desk and be used as a room key and players card, earning points on gaming and non-gaming spends across the property.
Host Player Management (HPM) is an IOS-based application that acts as a mobile CRM for Hosts and Player Development Executives. The application has a proven ROI, helping to drive additional profits with incremental revenue that can be directly attributed to its use. HPM is known in casino circles for its ability to keep casino players happy by providing better customer service to high-potential players, with various activities, including the ability to provide the right incentives at the right time.
"All of our Apple IOS applications are tailor-made for the casino operator. A lot of thought goes into the design of each application and we conduct rigorous testing to ensure that the apps will be intuitive, efficient and provide a measurable return on investment for all of our clients," Said Tony de Leon, Playersoft's CEO
To see a listing of the Playersoft Suite of Products, they can be found here: https://www.playersoft.com/products
About Playersoft
Playersoft Technologies focuses on creating systems to streamline all aspects of the fast-moving casino industry. Playersoft Technologies was established with a mission to help casino operators improve the players gaming experience, increase player retention and profitability.