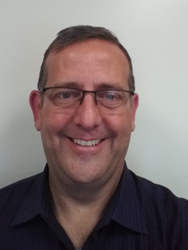 "We expect Andrew Graham's experience in developing sound best-of-breed data center solutions will further elevate our company's offerings," says Mike McClain, CEO of CEG. "Andrew will enable us to effectively support and cultivate the growth we're experiencing month after month."
GLASSBORO, N.J. (PRWEB) November 07, 2017
Critical Environments Group℠ (CEG), a leading provider of data center infrastructure optimization solutions, has announced that Andrew Graham has joined its team of Data Center Infrastructure sales professionals. In this role, Graham will provide the full breadth of CEG's product portfolio including data center migrations, consolidation projects, energy assessments and new builds for clients across the United States.
"We are pleased to welcome Andrew back to CEG, and we expect his experience in developing sound best-of-breed data center solutions will further elevate our company's offerings," says Mike McClain, Chief Executive Officer of CEG. "Our Company is experiencing exponential growth month after month. Andrew will enable us to effectively support and cultivate that growth."
Andrew Graham has more than 25 years of consistent success in consulting, designing, and supporting network and data center solutions to all industries as well as federal and state government and higher education. Prior to joining CEG, Andrew Graham served as the Director of Data Center and AV Solutions for PTS Data Center Solutions. He also previously served as the Director of Data Center Solutions for IIS Group, which was acquired by DCiM Solutions in 2016 and became Critical Environments Group earlier this year.
Graham is considered to be a thought leader regarding best practices and codes for data centers and network operations facilities. Working as part of a team, he consistently applies this knowledge when evaluating a client's data center and developing sound solutions to optimize these environments. Over the last few years, he has led engineering teams through energy assessments and upgrades impacting over one million square feet of data center space.
Andrew Graham will operate from CEG's corporate headquarters in New Jersey. He can be reached at 800-257-5235, extension 1292; at agraham@criticaleg.com or on LinkedIn.
About Critical Environments Group℠
Critical Environments Group (CEG) enables its clients to effectively manage, maintain and optimize their data centers and other IT environments. We're meeting the needs of this rapidly evolving industry by achieving value for channel partners or end users throughout the data center lifecycle.
CEG is the new, standalone organization that has been created because of DCiM Solution's 2016 acquisition of IIS Group. For more information about CEG and its combined comprehensive offerings, please visit http://www.criticaleg.com