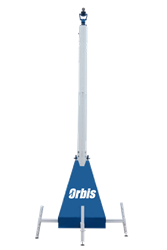 The most advanced and secure range of rapid deployment security solutions available
Uxbridge, London (PRWEB UK) 6 November 2017
On the 6th November 2017, Orbis and Optosafe have entered into a reciprocal supply and service agreement allowing Orbis exclusive access to the Optosafe range of rapid deployment solutions. Optosafe's advanced portfolio of products will enable Orbis to expand its current service offering to a new and existing customer base. Jason Gilchrist, Director at Optosafe said "This Partnership will cement our place in the vacant property sector. For Optosafe, Orbis were our only consideration in this market as their reputation is also backed by their rock-solid customer service and attention to detail".
Optosafe will now also be able to offer key Orbis services (vacant property solutions, clean and clear, enhanced response) to bolster their current service offering. Guy Other, Orbis CEO said " We are delighted to be partnering Optosafe and adding an exciting new range of rapidly deployed CCTV equipment to our existing intruder monitoring solutions. With less than 1 in 7 reported break-ins leading to convictions in some regions of the country and increasing levels of public concern over anti-social behaviour the tower's physical deterrent coupled with unparalleled image quality and reliability gives clients a real advantage when it comes to security and surveillance. The technology our partners have introduced to their range is undoubtedly best in class with a backup service to match."
About Optosafe:
Optosafe are currently the fastest growing, rapid deployment CCTV company in the UK.
Optosafe's goal is to provide the most advanced, electronic security solutions, coupled with outstanding service, value and expertise to every client.
Our core values are simply; To continually deliver QUALITY products, investing in the most innovative and stable technology; To provide unrivalled customer SERVICE, always putting our client's needs first and most importantly; TRUST – we advise our clients with honesty, integrity and a genuine passion for what we do.
About Orbis:
"At Orbis we abide by one simple concept, we do the job properly, so you can have complete trust that your property and lone workers are safe in our hands. We ensure that whatever we do, you can have confidence that we will deliver.
This trust is the reason why we have close partnerships with clients within the industry, and is why some of the largest and most prestigious organisations use Orbis for their vacant property, site management and lone worker protection.
Our services are monitored in real time 24/7 by our wholly owned CAT II British Standard Alarm Receiving Centre. Our clients have the ability to manage their portfolio online using our property management portal Aura which saves both time and money."
CCTV Towers: http://www.orbisprotect.com/secure/cctv-towers/
Datasheets: http://www3.orbisprotect.com/CCTVTower/Datasheet
Case Study: http://www3.orbisprotect.com/CaseStudy/Tesco