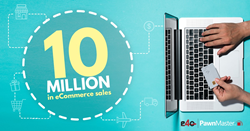 Offering both retail and online sales options is a necessity this season, as Deloitte is forecasting an 18 to 21 percent increase in 2017 e-commerce sales compared with 2016.
CLEARWATER, Fla. (PRWEB) November 08, 2017
Data Age Business Systems, the developers of PawnMaster software, continues to bring Pawnbrokers cutting edge eCommerce technology in an increasingly competitive used goods retail space. Their eCommerce capabilities have products flying off the shelves with a seamless and easy-to-use experience that allows the store to list an item on their floor for sale on multiple eCommerce sites, including their own website. This not only increases exposure by integrating with eCommerce giants such as eBay, Amazon, Craigslist, and Gunbroker, but also eliminates concerns around duplicate sales with multi-channel listing. Using PawnMaster's e-foro eCommerce integration, Data Age customers have sold over 50,000 items and generated over $10 million in eCommerce sales. PawnMaster's eCommerce clients also benefit from a unique pricing model that, unlike other vendors, does not charge revenue-sharing fees. E-foro eCommerce integration is gearing up Data Age customers to prepare them for the largest holiday season yet. Offering both retail and online sales options is a necessity this season, as Deloitte is forecasting an 18 to 21 percent increase in 2017 eCommerce sales compared with 2016. They also predict retail holiday sales should rise a healthy 4 to 4.5 percent over last year's shopping season.
Coming up on their 30th year in business, Data Age Business Systems was recently recognized on Tampa Bay Business Journal's Largest Tampa Bay Software Developers list. PawnMaster software, developed by Data Age Business Systems, enables pawnbrokers to spend more time with their customers and less time processing transactions. Data Age clients say it improves their customers' experiences in their stores while adding a level of security enabling clerks to be more aware of their surroundings.
This year, the 50-employee company successfully completed the acquisition and rebranding of SellerVantage (now operating as CrossPostIt), promoted five key employees, started their Pawnbroker Development Program, released Storefront, an integrated platform where clients can list items in inventory for sale on their own website and hit a milestone $10 million in eCommerce sales. The launch of their eCommerce integration has been one of their most important innovations to date. An annual survey by comScore found that consumers are now buying more things online than in stores. About 190 million U.S. consumers—more than half the population—will shop online this year, according to Forrester Research, as reported by the Wall Street Journal.
About Data Age Business Systems/PawnMaster
Data Age offers industry leading financial transaction software solutions that enable businesses doing non-traditional lending, buy/sell, check cashing and even retailers to scale their organization, deliver exceptional customer service, capture data quickly and accurately, mitigate risk, adhere to regulatory mandates, manage employee challenges, and drive profitability.
To learn more, visit http://www.pawnmaster.com or call 1-888-949-7296.