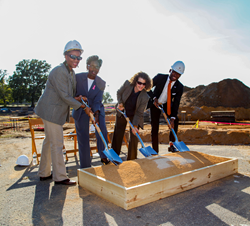 How wonderful to finally be constructing market rate and workforce housing in Greater Fulton alongside a mixture of uses including artist studios, a market café, and offices
RICHMOND, Va. (PRWEB) November 07, 2017
A ground breaking ceremony for Artisan Hill, a $30 million dollar development, was held recently in Greater Fulton beside the former Robert Fulton School. The ceremony marked the beginning of a long anticipated development. The event, which was attended by Mayor Levar Stoney, Councilwoman Cynthia Newbille, Chief Administrative Officer Selena Cuffee Glenn, Deputy Chief Administrative Officer Lee Downey, Cheryl Groce-Wright of the NRC, and John Williams from the Parks Department, served as public recognition that positive change was coming to Greater Fulton. Local artists, Wendy Cowan, Mary Studt, Linda Hollett, community leaders, Mary Ellen and Carl Otto, Chuck D'Aprix, Will Luckert, and fellow neighbors, Evelyn Johnson, Margaret and Daniel Cook, also showed their support by attending the event.
"How wonderful to finally be constructing market rate and workforce housing in Greater Fulton alongside a mixture of uses including artist studios, a market café, and offices," said Margaret Freund, founder and President of Fulton Hill Properties.
Artisan Hill will consist of 204 one, two, and three bedroom apartments, 11 artist studios, a market café, lap pool, expansive fitness facility, garage parking and sweeping views of the James River from a roof top deck. The project is expected to be completed in the Summer of 2019.
The apartments will have upscale finishes including wood flooring, granite counter tops, and in-unit washer and dryer. The community will have easy access to the Virginia Capital Bike Trail, downtown Richmond and local breweries and restaurants.
It has been a long road for Freund to the groundbreaking ceremony. She originally purchased the Robert Fulton School building in 1997. The building was renovated, turned into artist studios and named Fulton Hill Studios.
Twenty years later, Fulton Hill Studios has become home for local artists and artisans and served as an anchor for the local arts community. Freund's commitment to the arts community has not changed and the school building is being renovated as part of the Artisan Hill construction project. Once the renovation has been completed, it will provide live-work artist space in what will become a dynamic environment designed to foster creativity.
"This part of the City is a great mix of urban living with nature all around," said Freund. "It's a perfect place for a community of creative urbanists to thrive and enjoy the outdoors."