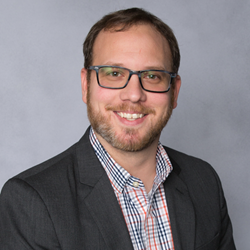 "John has been instrumental in the success of ktMINE since the beginning. As we continue to move into new markets, we see this as a pivotal time to accelerate our growth with the promotion of a proven leader to our C-Suite." - David R. Jarczyk, President & CEO of ktMINE
CHICAGO (PRWEB) November 07, 2017
ktMINE, an intellectual property information services provider, is pleased to announce that it has appointed John Wiora as Chief Operating Officer (COO). Wiora is responsible for overseeing strategic initiatives for the company's growth, managing partner and reseller relationships, and supporting product enhancement strategies.
Wiora started at ktMINE in 2010 as an Expert Analyst with experience in strategic economic analysis. Having researched trends, patterns and relationships surrounding specialized facets of intellectual property and intangible transactions for a broad range of customers, Wiora is well versed in the needs of ktMINE's customer base. Prior to his recent appointment as COO, he was ktMINE's Director of Operations, managing data acquisition, analysis, and implementation, as well as, developing sales and marketing strategies and leading research operations. During his tenure, Wiora has played an integral role in building and strengthening the team, maintaining high customer retention rates, and propelling market growth and expansion.
"John has been instrumental in the success of ktMINE since the beginning," said David R. Jarczyk, President & CEO of ktMINE. "As we continue to move into new markets, we see this as a pivotal time to accelerate our growth with the promotion of a proven leader to our C-Suite."
About ktMINE:
ktMINE, headquartered in Chicago, IL, is an IP information firm founded in 2008. Focused on minimizing research time, maximizing analysis power, and strengthening business decisions, ktMINE provides businesses across the globe access to insights on industry players, technologies, and developments. For more information, visit http://www.ktmine.com, or contact ktMINE to schedule a meeting.