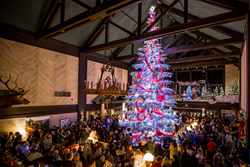 FISH CAMP, Calif. (PRWEB) November 07, 2017
Nestled among a forested mountain setting dusted with snow, Tenaya Lodge at Yosemite is a picture perfect holiday getaway complete with all the makings for magical seasonal fun. This AAA Four-Diamond Yosemite winter wonder lodge delights families with festive décor and a range of activities from epic gingerbread house decorating sessions to twirling around an outdoor ice rink next to a crackling fire. What's more, a special holiday offer ensures that every visit is wrapped up with a bow.
Oh-What-Fun Yosemite Holiday Offer
Tenaya Lodge is celebrating the holiday season with a special offer that allows guests to save 10 percent off every stay from Nov. 1, 2017 through Jan. 11, 2018. This exclusive Yosemite Holiday Offer is good for stays of two nights or more and can be booked online using the promo code: Holidays. Here's what guests can enjoy during their stay:
Kids Dinner with Santa
Exclusively offered on Nov. 25 and Dec. 22 and 23, the beloved Kids Dinner with Santa brings little ones aged 4 to 12 face-to-face with the hero of the holiday season – Santa Claus himself. Available as an event or as part of an overnight package, kids will have the chance to spend a special dinner with Santa and his elves and participate in a holiday games, crafts and activities. With great popularity and limited openings, this program sells out each year, so guests are advised to book early.
Sustainable Holiday Tree
The biggest holiday tree in Central California is the centerpiece of Tenaya's holiday celebration and greet visitors in the lobby from Nov. 25 through the end of December. This giant, 35-foot fir tree is sustainably harvested each year and set aglow in a grand tree lighting ceremony on the evening of Nov. 25. The event starts at 6 p.m. and is open to the public. Cookies, cocoa and photos with Santa are all part of the evening fun.
Gingerbread House Workshops
On Nov. 24 and 25 and Dec. 16 and 22, guests and locals alike are invited to test their DIY skills– and resist the urge to snack on their masterpieces – at the lodge's wildly popular Gingerbread House Workshops. For $75, cookie and candy architects get all the fixings to build the ultimate dream house, as well as expert guidance from Tenaya's culinary team, while onlookers are welcome to browse the "neighborhood" free of charge.
Ornament Decorating
To deck the halls at home, crafty visitors are invited to an Ornament Decorating Workshop on Nov. 25 and Dec. 21 and 23. Holiday lovers of all ages can take part in this two-hour session, during which participants can customize a set of six ornaments or personal stockings with a store of festive décor worthy of Santa's workshop.
Outdoor Ice-Skating and More
Tenaya's popular outdoor ice-skating rink opens for the season on Nov. 22 with a grand celebration complete with complimentary hot chocolate. Weather and snow permitting, families can also opt to slide down the lodge's sledding hill, explore the forest on a snow shoe hike or even tour the area on a horse-drawn sleigh ride.
Holiday Dining
Tenaya has the holidays covered with sumptuous Thanksgiving and Christmas Buffets complete with all the savory and sweet fixings to appeal to kids and adults. There's also a special holiday menu in Sierra Restaurant for Christmas Eve and Christmas dinner. Live music and no dishes to clean up afterward make for a grand experience for all.
New Year's Celebration
Finally, celebrators can finish off the holiday season – and ring in 2018 – on a High Sierra note at Tenaya's Roaring Twenties New Year's Eve Celebration! Prepare for a full-blown bash from the first cocktail to the last dance. Beginning with hors d'oeuvres and progressing to a gourmet dinner with live jazz, the evening will heat up with the Valley Cats taking the stage after dinner. Dance your socks off and get ready for the champagne toast and balloon drop! Kids can also join the party with separate, supervised and age-appropriate costume themed parties for just $65 per child, and childcare is available for little ones under age 4. Full New Year's packages can be booked online or by calling 888-514-2167. To book a kids' experience, contact the Tenaya concierge at 559-692-8985.
To learn more about spending the holidays at Tenaya Lodge, visit TenayaLodge.com/HolidayEvents. 
About Tenaya Lodge at Yosemite
Tenaya Lodge at Yosemite is an all-season resort framed by noble evergreen forest and a rich range of Sierra recreation. The lodge, set adjacent to Yosemite National Park's South Gate at an elevation of 5,288 feet, offers 302 rooms, suites and mountain cottage accommodations. Tenaya Lodge offers easy access to Yosemite's iconic attractions and many guests savor the alpine serenity of Ascent Spa at Tenaya Lodge. Resort dining options run the table from casual to candlelit at Sierra, Jackalope's, Timberloft and Embers restaurants. For more information, visit TenayaLodge.com.
About Delaware North
Delaware North is one of the largest privately-held hospitality and food service companies in the world. Founded in 1915 and owned by the Jacobs family for 100 years, Delaware North has global operations at high-profile places such as sports and entertainment venues, national and state parks, destination resorts and restaurants, airports, and regional casinos. Our 60,000 employee associates are dedicated to creating special experiences one guest at a time in serving more than 500 million guests annually. Delaware North has annual revenue of about $3 billion in the sports, travel hospitality, restaurants and catering, parks, resorts, gaming, and specialty retail industries. Learn more about Delaware North at delawarenorth.com.
###