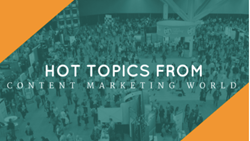 Content Marketing World is 'the one event where [one] can learn and network with the best and the brightest in the content marketing industry.'
AUSTIN, Texas (PRWEB) November 08, 2017
Joe Pulizzi, known as the godfather of content marketing, is the founder of Content Marketing Institute - the leading education and training organization for content marketing - and is also the founder of Content Marketing World, the largest in-person content marketing event in the world.
Shweiki Media Printing Company has teamed up with Pulizzi to present a new webinar, in which the expert and event founder discusses the hot topics from this year's event - the one event where [one] can learn and network with the best and the brightest in the content marketing industry - and offers some insights of his own.
Pulizzi touches on the following subjects:
-Building an audience
-Producing and delivering content
-Why every company must be a media company
-The next big thing
-And more!
The webinar is available exclusively on Shweiki's YouTube channel and, with an accompanying blog, on Shweiki.com. Learn more from Pulizzi from other webinars, available at shweiki.com/blog.
About Shweiki Media:
Shweiki Media's mission has always been to help publishers improve by providing the most profitable, hassle-free printing experience possible. This includes guaranteeing the highest quality product, exceptional customer service, world-class communication, an on-time guarantee, and no surprises– whether printing magazines, postcards, flyers or anything else.
As a printer and publisher, Shweiki Media also believes that this hassle-free experience includes making their clients better. Utilizing relationships with industry experts, Shweiki Media strives to educate clients and help them thrive in the exciting world of publishing–while having lots of fun along the way!
For more great info from and about Shweiki Media, please check out our blog at shweiki.com/blog (and sign up for our free weekly expert webinars!), and subscribe to our Youtube Channel at youtube.com/shweikimedia. You can also follow us @ShweikiMedia and "like" us at Facebook.com/shweikimedia.
About Joe Pulizzi:
Joe is the founder of the Content Marketing Institute, A content marketing evangelist and passionate about the color orange, Joe Pulizzi is one of the leading thought leaders behind the content marketing and social media movement.