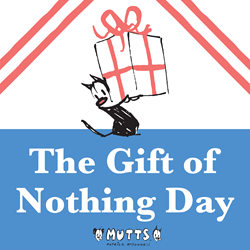 What do you get for someone who has everything? Nothing! (Nothing, that is, but the gift of time and love.)
PRINCETON, N.J. (PRWEB) November 07, 2017
What do you get for someone who has everything? Nothing! (Nothing, that is, but the gift of time and love.) Patrick McDonnell, creator of the beloved MUTTS comic strip, is inviting holiday gift-givers around the world to participate in The Gift of Nothing Day — a day to celebrate the companionship of loved ones — on December 30, 2017. The occasion will occur annually on the Saturday after Christmas and is inspired by McDonnell's critically acclaimed picture book "The Gift of Nothing."
The book, which features MUTTS stars Mooch the cat and Earl the dog, is a perennial holiday tale about the true meaning of gift-giving. It's an expression of love.
For a special holiday present, McDonnell encourages gift-givers to create their own gift boxes filled with "nothing" for friends or loved ones. Each box should contain a personal promise — a coupon or certificate of sorts — to spend quality time with the recipient on December 30. Activities for The Gift of Nothing Day can include volunteering or enjoying a home-cooked meal, going on a long drive, dancing in your living room, having a slumber party, or even turning off the TV and enjoying a quiet evening together (doing nothing)!
It is encouraged that the giver find, decorate, and/or construct a box by hand. However, for those who wish to buy theirs, a keepsake The Gift of Nothing Box is available for sale at the online MUTTS Shop (along with "The Gift of Nothing" book).
On December 30, participants can tag or search #TheGiftOfNothingDay on social media to share their special moments with others around the globe!
For more information about how to participate, visit TheGiftOfNothingDay.com or The Gift of Nothing Day Official Facebook Page.
About "The Gift of Nothing" Book:
"The Gift of Nothing" (published in 2005 by Little, Brown Books for Young Readers) was McDonnell's first children's book, and it quickly became a New York Times bestseller. In a starred review, Publishers Weekly said: "Both MUTTS fans and newcomers will appreciate McDonnell's clever wordplay and lovable characters, who prove that nothing can be everything." In 2014, the story was transformed into a children's play commissioned by the John F. Kennedy Center for Performing Arts. In 2016, McDonnell released a board book adaptation titled "The Little Gift of Nothing."
About MUTTS:
Patrick McDonnell created the MUTTS comic strip in September 1994. Distributed internationally by King Features Syndicate, it now appears in more than 700 newspapers in 20 countries. The strip revolves around two central characters — Earl the dog and Mooch the cat — and celebrates love, kindness, and interspecies friendships. McDonnell has received numerous awards for this strip, including the National Cartoonists Society's highest honor, The Reuben; five Harvey Awards for Best Comic Strip; Germany's Max and Moritz Award for Best International Comic Strip; and the Swedish Academy of Comic Art's Adamson Statuette. McDonnell is collaborating with 20th Century Fox Animation and Blue Sky Studios (The Peanuts Movie, Ice Age, Horton Hears a Who) to create a full-length, animated MUTTS movie.