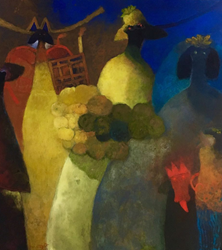 "We welcome Rojas-Ford Gallery to the Coral Gables arts community," says Ramón Cernuda of the Cernuda Arte gallery. " Their expertise and connoisseurship in the fields of Mexican and Central American art represent a significant gain to the City Beautiful."
Coral Gables, FL (PRWEB) November 08, 2017
Suzanne Snider and Mark Ford are partnering with Mayari Rojas of Guatemala (Galeria Arthis) to become Rojas-Ford Fine Art. Rojas-Ford is the first Latin American gallery to specialize in Mexican and Central American Modern and Contemporary art in addition to many Latin American Masters. Works by renowned artists Francisco Zúñiga, Carlos Merida, Francisco Toledo, Rufino Tamayo, Jose Luis Cuevas, and Armando Morales will be featured. The gallery is also representing, among others, Jorge Marín, Elmar Rojas, Benjamin Cañas, Rafa Fernandez, Alejandro Aróstegui, Denis Nuñez, Nahum Flores, and Marcia Salas.
Rojas-Ford's first exhibit (opening reception Nov 17 at 6 pm) for November/December will showcase Guatemalan master Elmar Rojas. It will include paintings, pastels, and several portfolios of piezographs (serigraphs hand embellished with gold or silver pigments and varnishes).
Next on the new gallery's schedule are shows by Benjamin Cañas (January/February 2018) and Armando Morales March/April 2018.) Subsequent exhibits will feature Olga Sinclair, Rodolfo Abularach, Max Leiva, Ramon Avila, Armando Lara, Victor Guadalajara, Jose Luis Bustamante, Javier Martin del Campo, and Vicente Rojo.
Rojas-Ford will also be celebrating the cultures of Nicaragua, Costa Rica, El Salvador, Honduras, Panama, Guatemala, and Mexico with special events. As Ford Fine Art, they will continue to buy, sell and consign Latin American fine art.
"We welcome Rojas-Ford Gallery to the Coral Gables arts community," says Ramón Cernuda of the Cernuda Arte gallery. " Their expertise and connoisseurship in the fields of Mexican and Central American art represent a significant gain to the City Beautiful."
Rojas-Ford Fine Art is located at 3138 Ponce de Leon Blvd, Coral Gables, FL 33134, across from Cernuda Arte. Gallery hours are Monday-Friday 10:30-6:30 and Saturday 12:00-6:30.
For more information, contact Gallery Director, Suzanne Snider at 561 512.2467 or 305 420.5413 or email suzanne(at)fordfineart(dot)com.