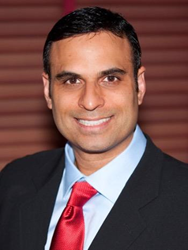 Elmhurst, IL (PRWEB) November 07, 2017
Dr. Amarik Singh, a celebrated periodontist with Periodontal Implant Associates, is pleased to announce that he is now accepting new patients suffering from gum disease in Elmhurst, IL, who may be in need of the REPaiR implant protocol. This treatment uses BIOLASE® WaterLase® laser technology to target gum disease around dental implants, a condition known as peri-implantitis.
Peri-implantitis only affects those with dental implants. The condition causes damage to the bone and gum tissue that support implants, which compromises the implant's ability to safely and effectively function. Gum disease in Elmhurst, IL, may be to blame, but there are other factors, such as genetics, that could also be at play. Some of the most common symptoms of peri-implantitis include:

Redness and inflammation in the immediate areas around the implant
Pain around the implant location
Presence of pus around the implant
Bleeding gums
To keep patients from losing their implants, Dr. Singh recommends receiving the REPaiR protocol. This protocol was designed specifically to help clear away disease and allow patients to heal, saving their implants. It involves using minimally invasive laser technology to eradicate the bacteria causing disease and stop the damage from progressing. This allows the bone and soft tissue to heal and for the supportive tissues around the implant to become strong enough to maintain the load required of them.
If left untreated, gum disease and peri-implantitis could cause patients to lose their implants. Patients should always seek qualified treatment before the disease progresses and they lose a dental implant. As a board-certified periodontist who specializes in periodontal care and dental implants, Dr. Singh has placed over 15,000 implants and is happy to have dedicated his practice to helping improve his patients' lives and progressing in his field. Those who would like to learn more can contact the doctor by calling 630-424-9404.
About the Periodontist
Periodontal Implant Associates is a periodontal practice offering personalized dental care for patients in Oak Brook, IL and the Chicago area. After graduating from Northwestern University Dental School, Dr. Amarik Singh went on to obtain his Specialty Certificate in Periodontics and earn his Master's from Northwestern University. Dr. Singh is deeply committed to continuing education and prides himself on remaining on the cutting-edge of the newest techniques and technology in dentistry. Dr. Singh has placed over 15,000 dental implants using minimally invasive techniques and is part of an elite group of dental professionals at the forefront of the Chao Pinhole® Surgical Technique (PST™), a revolutionary new approach to repairing gum recession. To learn more about the periodontal services available at Periodontal Implant Associates, please visit http://www.pidentists.com or call 630-424-9404.